A very happy father's day to all the amazing dads out there. And a huge shout out to all the single moms who do a great job of being both parents.
Today I am sharing my Kheema recipe that I learnt from my dad. Kheema is minced meat cooked with a lot of spices. Papa is an awesome cook and when we were growing up almost every Sunday he either made this kheema or mutton curry. He would wake up early in the morning, buy fresh mutton, get it made into mince and then come home and cook. My brother, Gautam and cousin, Nadir were in boarding school and we went to visit them every other Sunday. Papa would make the kheema on Saturday and then mom would pack it up in an ice box with freshly made parathas. We would all eat it for lunch together on Sunday at our little hotel cottage in Dehradun. It's got to be one of my favorite childhood memories. Even now every time my dad comes to visit us, he has to make it at least once.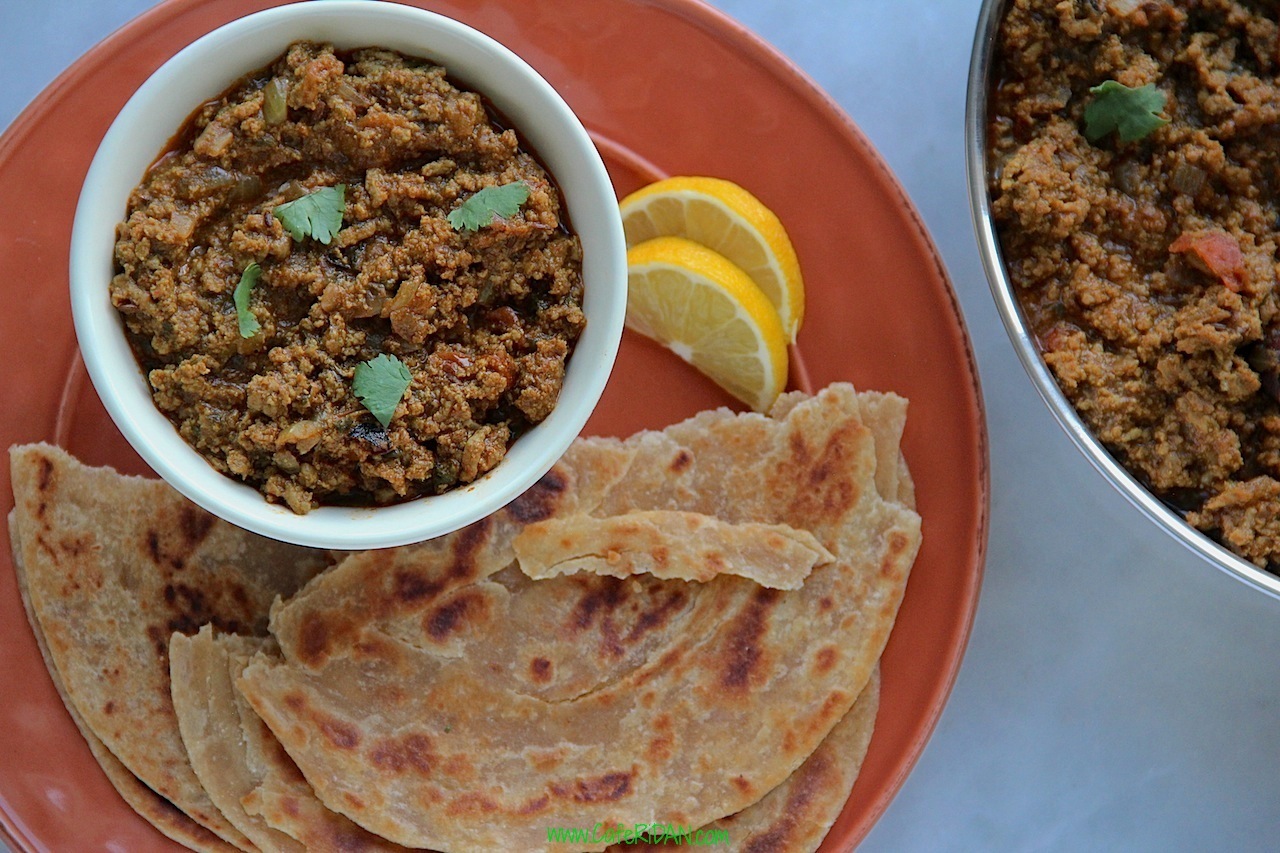 In India, we use a lot of goat meat and even here in the U.S. for traditional Indian recipes, I try and use goat meat whenever possible. Goat meat is available at any Indian and Pakistani butcher shop but you can also use beef or lamb. Papa made this kheema with a lot of love…and by love I mean his passion for food and also ghee :). We would yell and scream at the amount of ghee or clarified butter he used but honestly that is what makes this dish. The aroma and flavor of the onions, ginger, garlic and freshly ground spices slowly cooked in ghee along with the mutton is sinfully delicious.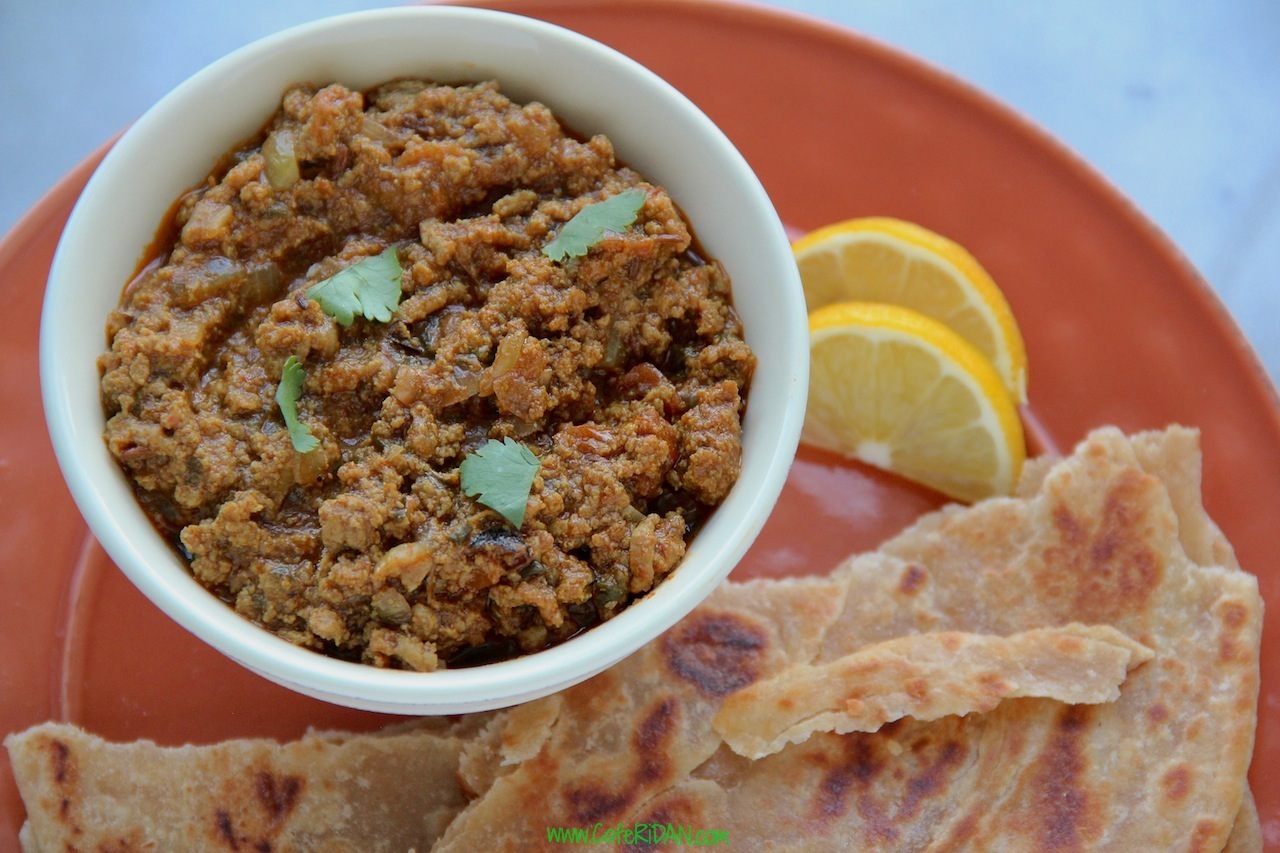 The one thing my dad always says is be patient while cooking Indian food. Cooking slowly allows the flavors to develop which results in delicious food. Making this kheema would take him a couple of hours as he always used goat meat that takes slightly longer to cook but the result was an amazing warm, flavorful, melt in your mouth curry that left you wanting more with every bite. Hope you enjoy it as much as we have all these years.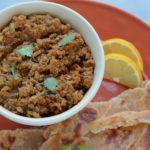 KHEEMA (Minced Meat Curry)
2016-06-18 17:02:40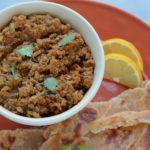 Serves 6
Ingredients
2-3 tablespoons ghee
6 cardamom pods
6 cloves
2 bay leaves
2 cinnamon sticks
2 teaspoons cumin seeds
2 teaspoons turmeric powder
2 cups onions, finely chopped
1 tablespoon ginger paste
1 tablespoon garlic paste
1 green chili chopped
2 pounds ground lamb, beef or mutton
2 teaspoons salt
2 teaspoons cumin powder
2 teaspoons coriander powder
1 teaspoon red chili powder
4 medium tomatoes, ground into a puree
2 cups water
½ cup fresh cilantro, chopped
2 teaspoons brown sugar or jaggery
1 teaspoon vinegar or lime juice
Instructions
Coarsely grind cardamom pods and cloves in a mortal pestle.
In a large pan, heat ghee over medium heat.
Add ground cardamom and cloves, bay leaf, cinnamon sticks and cumin seeds. Let it sizzle for about a minute. As the aroma develops add turmeric and sauté for 10 seconds.
Then add onions and slowly cook them for 10-12 minutes until golden brown stirring often.
Mix the ginger and garlic pastes with a tablespoon of water and add it to the onions. This prevents it from burning. Also add the green chilies and sauté for another 5 minutes.
Add the ground meat and sauté on medium high heat until the meat is brown. This should take about 10-12 minutes. Once the meat is brown add salt, cumin powder, coriander powder and red chili powder. Sauté for about a minute.
Add pureed tomatoes and cook for another 5-7 minutes.
Add water. Cover and cook for 20-30 minutes stirring occasionally. If you are using goat meat it will take about 40-45 minutes to cook. Once cooked if you feel the meat is too dry, add a little bit more water.
Once the meat is cooked you will find that the ghee or oil will float to the top. At this point add the cilantro, brown sugar and vinegar. Cook for another 5 minutes.
Enjoy it hot with fresh rotis, parathas or naan.
Notes
If at any point you find that the spices are burning, add a splash of water.
Café RiDAN https://www.caferidan.com/