Yotam Ottolenghi is one of my favorite chefs. I have every one of his cookbooks and every recipe is superb. Having said that, I do have my favorites and these soba noodles with mango and eggplant from his book "Plenty" is one of them. Seems like my one year old agrees with me…She had it for lunch and insisted on making dinner out of it too!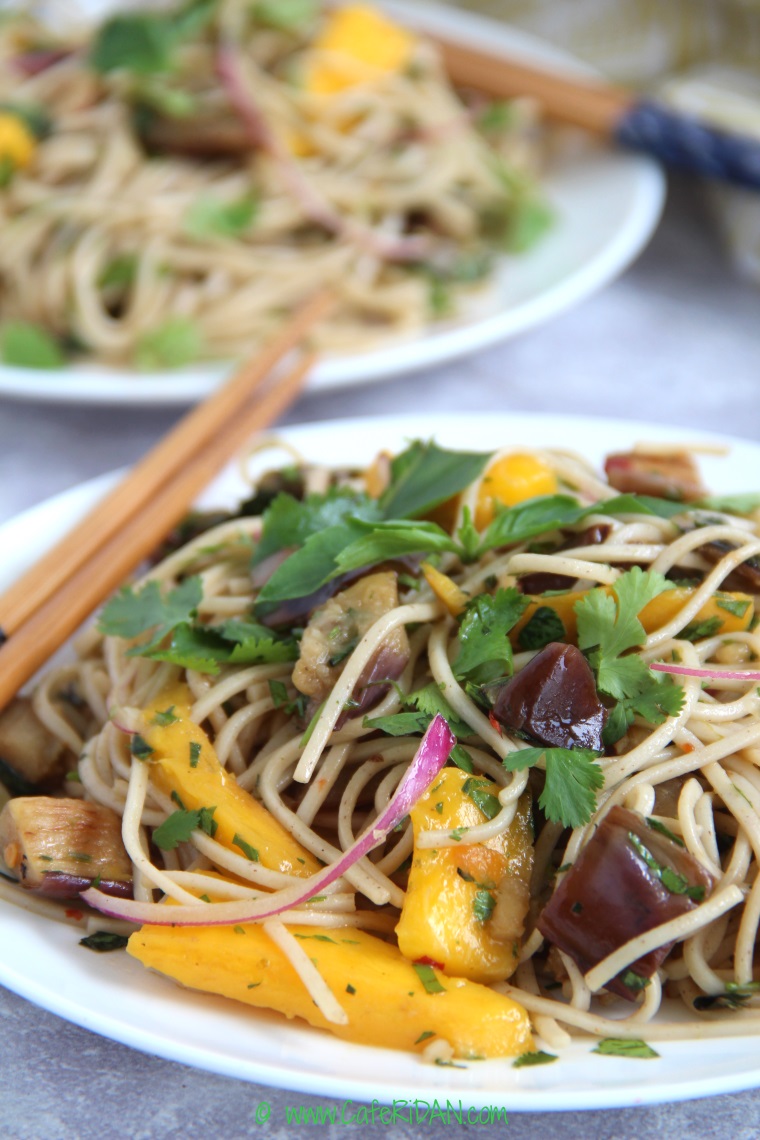 The light and refreshing nature of the buckwheat noodles with a distinct nutty flavor pair so well with the sweet and tart dressing with a kick of spice. This combined with slightly charred eggplant, sweet ripe mango and fresh herbs is a delight for your taste buds. I have used Chinese eggplant in the recipe as I find it has a more delicate flavor, less bitterness and thinner skin as compared to regular eggplant. I have also substituted chili garlic paste for a fresh red chili. The one thing to remember is that this dish needs to sit for at least a couple hours before serving to allow all the flavors to blend.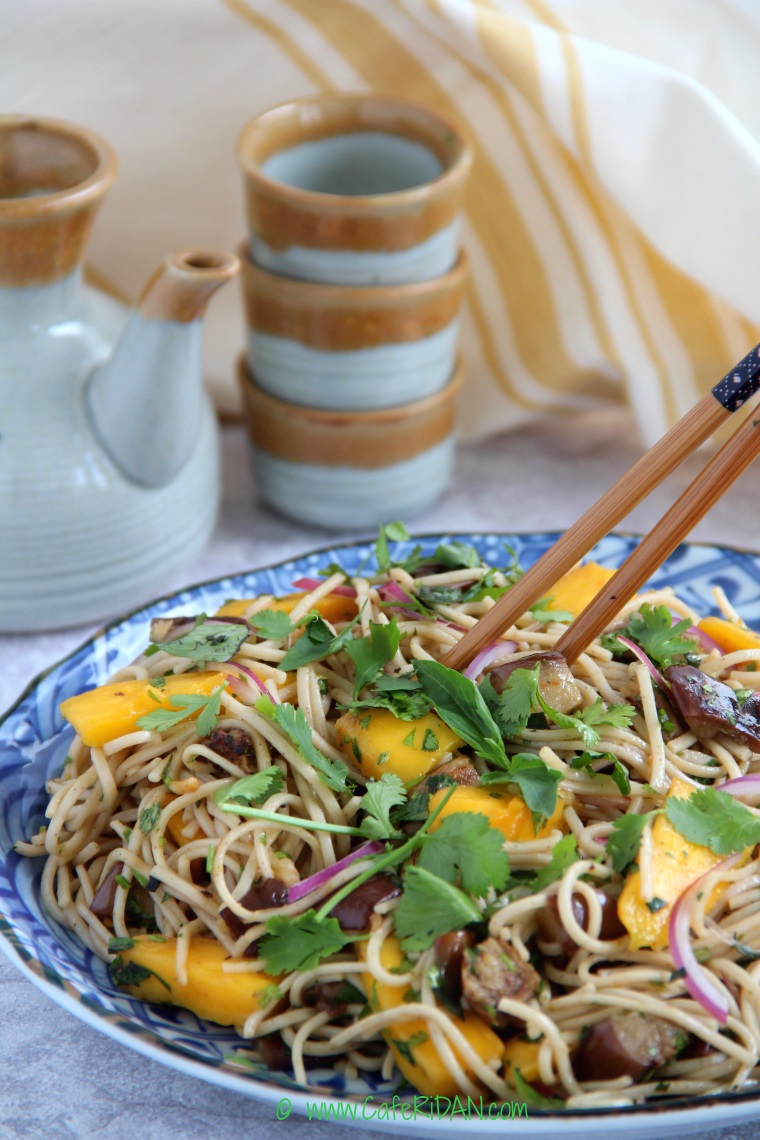 This dish is perfect for an appetizer or a light lunch.
Here is how I made it…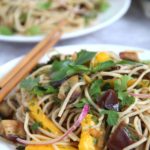 SOBA NOODLES WITH EGGPLANT AND MANGO
2018-04-20 14:32:18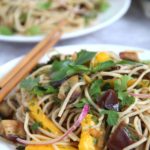 Serves 3
Ingredients
¼ cup rice vinegar
1½ tablespoons coconut sugar (can substitute with white sugar)
¼ teaspoon salt
2 garlic cloves, minced
1½ teaspoons chili garlic paste
2 teaspoons toasted sesame oil
Grated zest and juice of 1 lime
3 tablespoons vegetable oil
1 eggplant, cut into ¾ inch dice (I used Chinese eggplant)
6 ounces soba noodles
1 large ripe mango, cut into ¼ inch thick strips
½ cup thai basil leaves, chopped
1¼ cup cilantro leaves, chopped
¼ red onion, thinly sliced
Instructions
In a small saucepan warm vinegar, sugar and salt until the sugar dissolves. This should take about a minute.
Remove from heat and add garlic, chili garlic paste and sesame oil.
Allow to cool and then add lime juice and zest. Give it a good stir and set aside.
Heat oil in a large pan and shallow fry the eggplant until golden brown. Remove to colander, sprinkle with salt and allow to drain.
Cook the noodles in boiling water as per package instructions. Soba noodles usually take 5-6 minutes to become tender but still al dente. That's exactly what you want. Drain and rinse under running cold water. Set aside to drain.
In a large mixing bowl toss the noodles with the dressing, mango, eggplant, onion and half the herbs. Leave this aside for at least 2 hours before serving. When ready to serve add the rest of the herbs, mix well and serve at room temperature.
Adapted from Yotam Ottolenghi's book Plenty
Adapted from Yotam Ottolenghi's book Plenty
Café RiDAN https://www.caferidan.com/