Kashmiri dum aloo is one of the most popular vegetarian curries from the northern most state in India, Jammu and Kashmir. My dad is from there and I learnt this curry from one of his Kashmiri friends who stayed with us for a few months. Dum aloo is lightly fried baby potatoes cooked in a flavorful and spiced yogurt curry.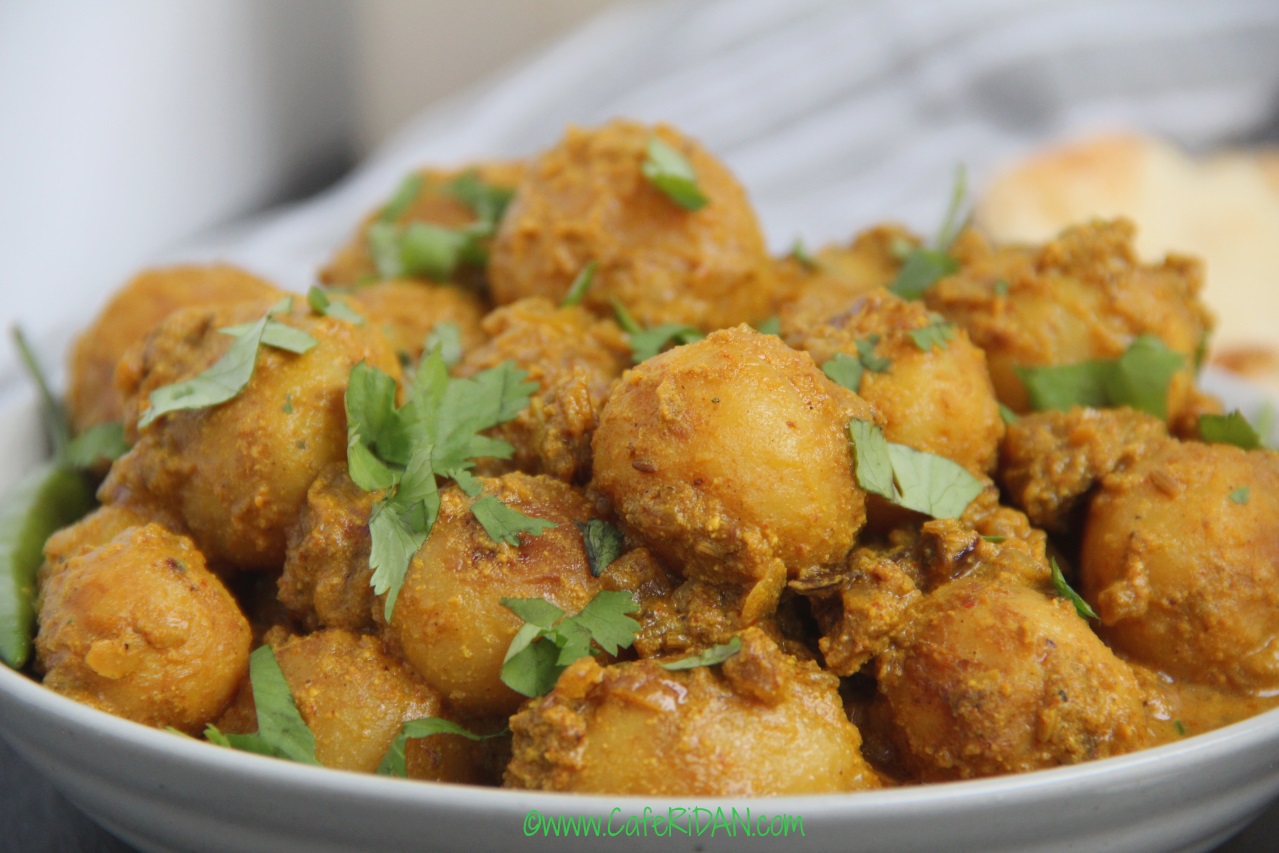 What gives this curry such depth of flavor is the wide variety of spices that are used. You can use ready ground spices but I freshly roast and pound the fennel seeds, mace and cumin seeds. If you cannot find mace you can leave it out. Mace is the outer webbed covering of nutmeg seed and just elevates the flavor of any curry. Also, for this recipe we use Kashmiri chili powder that has a beautiful red color but not as much heat as regular chili powder. I make dum aloo in mustard oil which is traditionally used in most Kashmiri food. Personally, I use mustard oil for most of my Indian cooking, specially for vegetables and curries. Just make sure to burn the oil slightly before cooking to get rid of the bitterness that raw mustard oil has.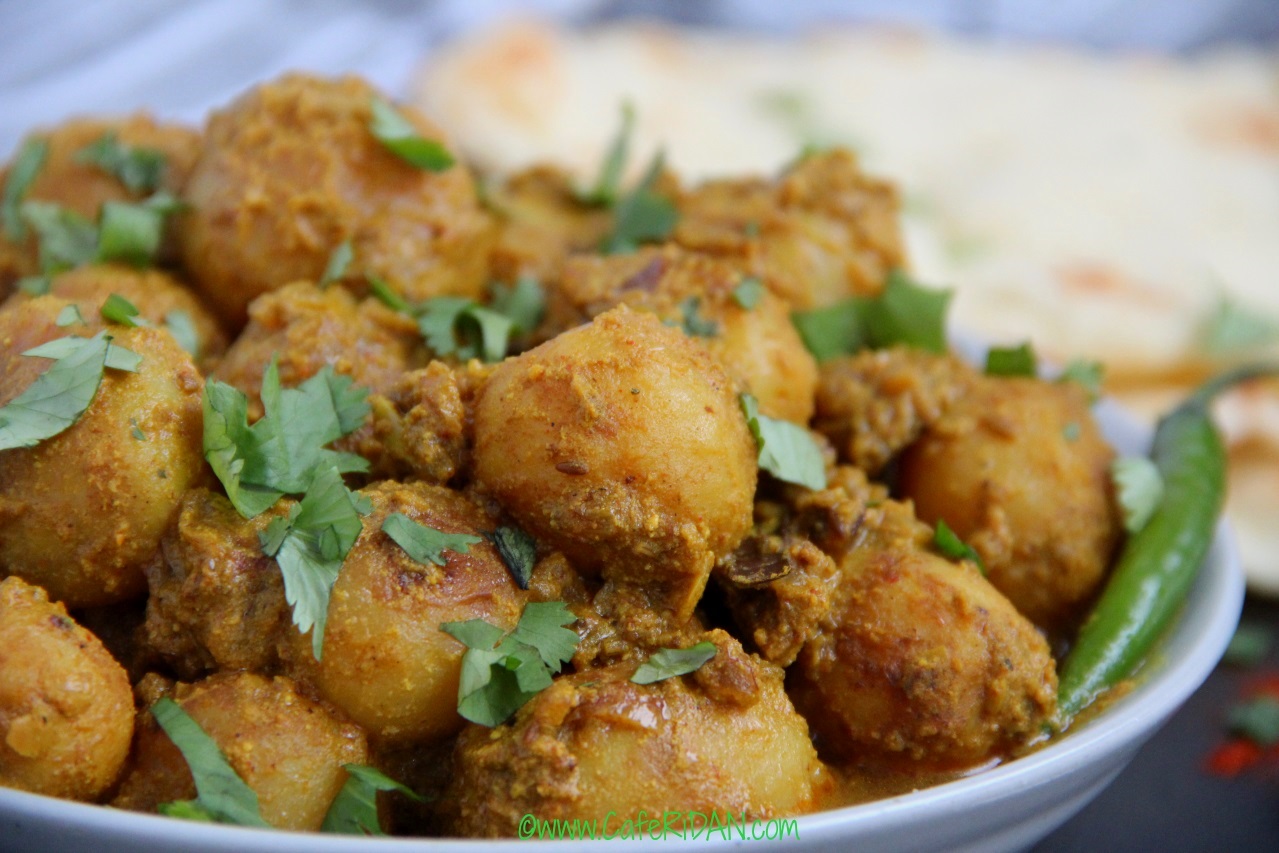 Dum Aloo is great served with roti, naan, paratha or some steaming hot basmati rice.
Here is how I make it…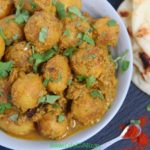 KASHMIRI DUM ALOO
2018-04-13 14:55:02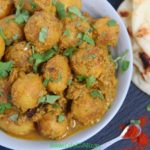 Serves 4
Ingredients
1 pound white baby potatoes
1 tablespoon fennel seeds
½ tablespoon cumin seeds
1 piece mace (javitri)
4 tablespoons mustard oil or vegetable oil
4 cloves
4 cardamom pods
1-inch cinnamon stick
2 bay leaves
1 onion, finely chopped
1 teaspoon ginger paste
½ teaspoon garlic paste
1 teaspoon Kashmiri chili powder (degi mirch)
1 teaspoon turmeric powder
1 teaspoon garam masala powder
1 cup yogurt at room temperature, whisked
1 cup hot water
2 teaspoons salt
Instructions
Wash the potatoes and then prick them with a fork lightly. Cover with water and boil for 20 minutes until cooked through. Drain and peel potatoes.
In the meantime, roast the fennel seeds, mace and cumin seeds in a dry sauté pan for 2-3 minutes until lightly browned. Cool and pound into a powder with a mortar pestle or in a spice grinder. Set aside.
Heat some mustard oil or vegetable oil. If using mustard oil wait till the oil smokes a little to cut the bitterness of the oil. Add potatoes and fry on medium heat until golden brown. Drain on a paper towel and set aside.
To the remaining oil add cloves, cardamom pods, cinnamon stick and bay leaf. Sauté for a minute.
Add the chopped onions with a pinch of salt. Stir fry on medium heat until brown. This should take about 8-10 minutes.
Add the ginger paste and garlic paste. Sauté for another 2 minutes.
Add the Kashmiri chili powder, turmeric, garam masala powder and the freshly pounded fennel spice mix. Add a dash of water the prevent the spices from burning and sauté for another minute.
Then add in the whisked yogurt and stir continuously until it comes to a boil to prevent the yogurt from splitting. Cook for 5-7 minutes till the curry starts to leave oil from the sides.
Add the fried potatoes, salt and water. Give it a good stir, cover and simmer on low heat for 20 minutes.
Garnish with chopped fresh coriander and serve hot with naan, roti, paratha or rice.
Café RiDAN https://www.caferidan.com/