Dal tadka is lentils cooked with delicious, aromatic Indian spices. For Karan and me like most Indians dal is comfort food. We eat dal and rice at least twice a week, if not more and it is definitely our first meal when we come back home after a vacation.
Dal is an integral part of the Indian diet. Lentils are a rich source of dietary fiber, protein and micronutrients. In India, we use a large variety of lentils. Each one has a distinct flavor and every region has a different way of cooking it. For this recipe, I have used lal masoor/red lentils. It is a personal favorite as it cooks fast, is easy to digest and is also easily available in most grocery stores across the U.S. You can also use toor, moong or chana dal if you like.
What makes this dal even more delicious is the tempering with spices or as we call it, tadka. Ghee, Cumin seeds, mustard seeds, bay leaf, turmeric and whole dry red chilies add a rich aromatic flavor in every bite. Don't shy away from using the whole red chilies. I promise you it does not make the dal spicy but adds a distinct smoky flavor. Try this dal with some steaming hot basmati rice and you will be hooked!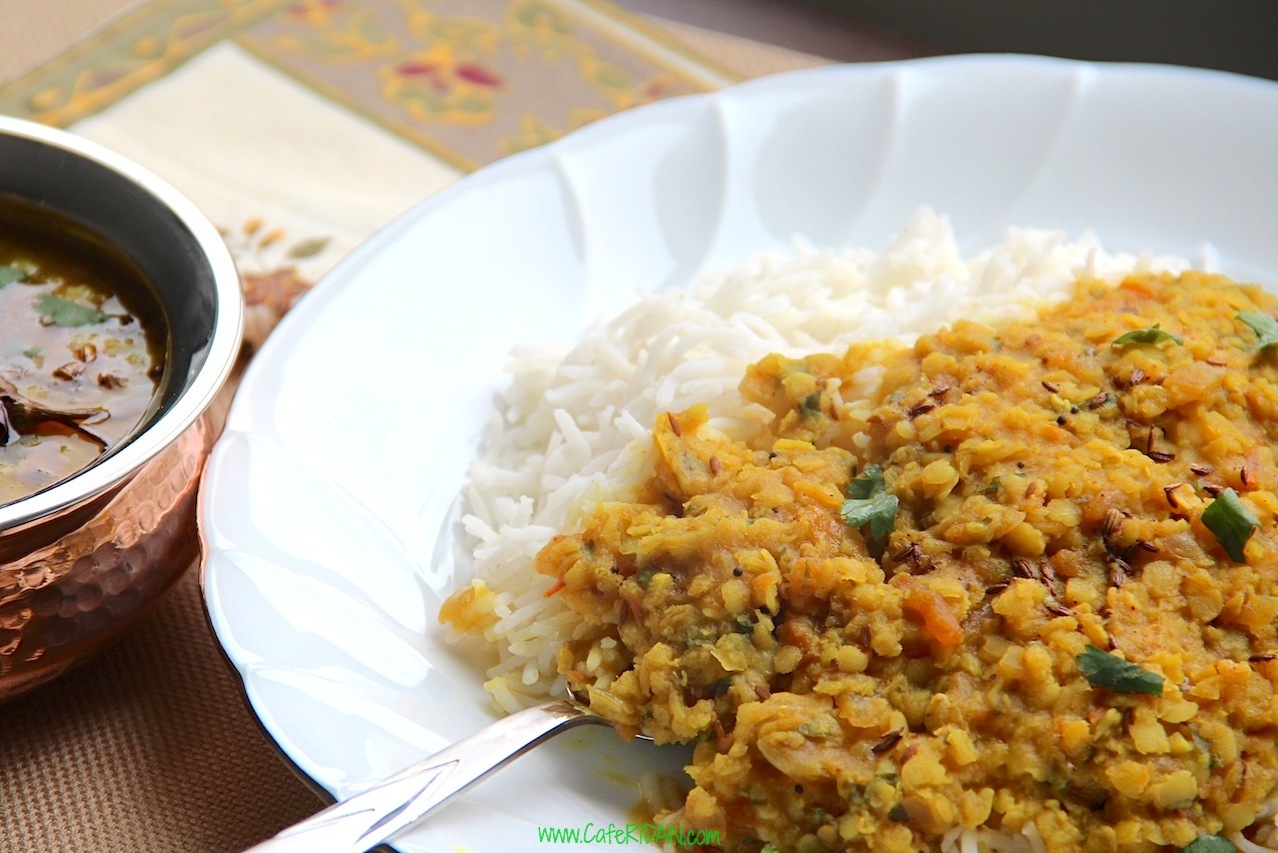 Here is how I make it…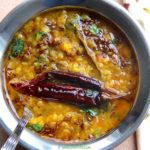 DAL TADKA (Lentils with spices)
2016-06-02 17:26:33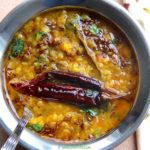 Serves 2
For Dal
1 cup lal masoor / red lentils
4 cups water
pinch of sugar
1 tablespoon oil or ghee
½ cup onion, finely chopped
½ tablespoon ginger paste
½ teaspoon garlic, finely minced
¾ cup tomato, finely chopped
2 tablespoon cilantro, chopped
1 teaspoon cumin seeds
½ teaspoon mustard seeds
1 bay leaf
1½ teaspoon salt
1 teaspoon turmeric powder
For Tadka
1 teaspoon ghee or clarified butter
1 teaspoon cumin seeds
¼ teaspoon red chili powder
2 whole dry red chilies
Instructions
Wash and rinse the lentils a few times until the water runs clear.
In a medium sauce pan add lentils, water, ½ teaspoon turmeric powder, 1 teaspoon salt and a pinch of sugar. Bring to a boil stirring occasionally.
Once the lentils come to a boil lower the heat to medium, cover and cook for 20-25 minutes or until the lentils are cooked. Stir a couple of time in between. You know the lentils are cooked when they are soft and mushy.
Meanwhile in a medium frying pan, heat a tablespoon of oil/ghee on medium heat. Add cumin seeds, mustard seeds, bay leaf and ½ teaspoon turmeric powder. It will start to splutter. Sauté for about 20-30 seconds.
Add onion and cook for 8-10 minutes until slightly brown. Add ginger, garlic and cook for another minute.
Add tomatoes and ½ teaspoon salt. Cook for 8-10 minutes or until oil starts to separate.
By this time your lentils should be cooked. Add the onion and tomato mixture to the lentils and simmer for 5-7 minutes.
In another small pan heat a teaspoon of ghee. Add 1 teaspoon cumin seeds and allow them to brown slightly for about 30 seconds. Then add whole dry red chilies and chili powder and cook for another 30-40 seconds. Add to the cooked lentils along with the chopped cilantro and stir well.
Serve with steaming hot rice.
Café RiDAN https://www.caferidan.com/