This recipe comes from the southern most state in India, Kerela. I love the food from the coastal regions of South India…their curry, stews, appams and the list goes on. This curry is rich, creamy and packed with flavor. What makes this curry absolutely delicious is the curry paste that is made from whole spices that are freshly fried and ground. I have adapted this recipe from Indian Kitchen written by a fabulous chef and author Maunika Gowardhan.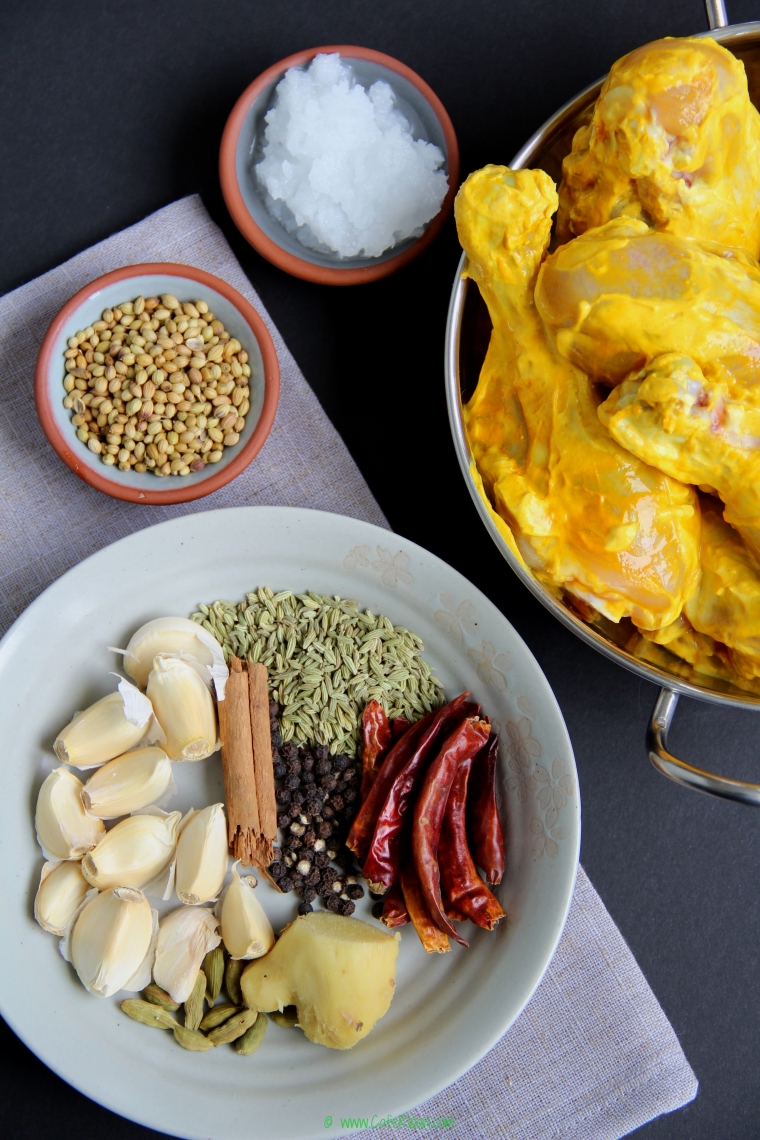 Cooking in coconut oil definitely adds to the flavor of the curry but you can also use regular vegetable oil. The original recipes uses thick coconut milk but I used coconut cream which I find makes the curry slightly creamier and also helps take the edge off the heat. You can also add more water if you like more gravy in the curry and serve it with steamed rice. Don't be in a rush and spend time sauteing the spice mixture well until the oil separates and floats to the top because that really brings out the flavor of all the spices.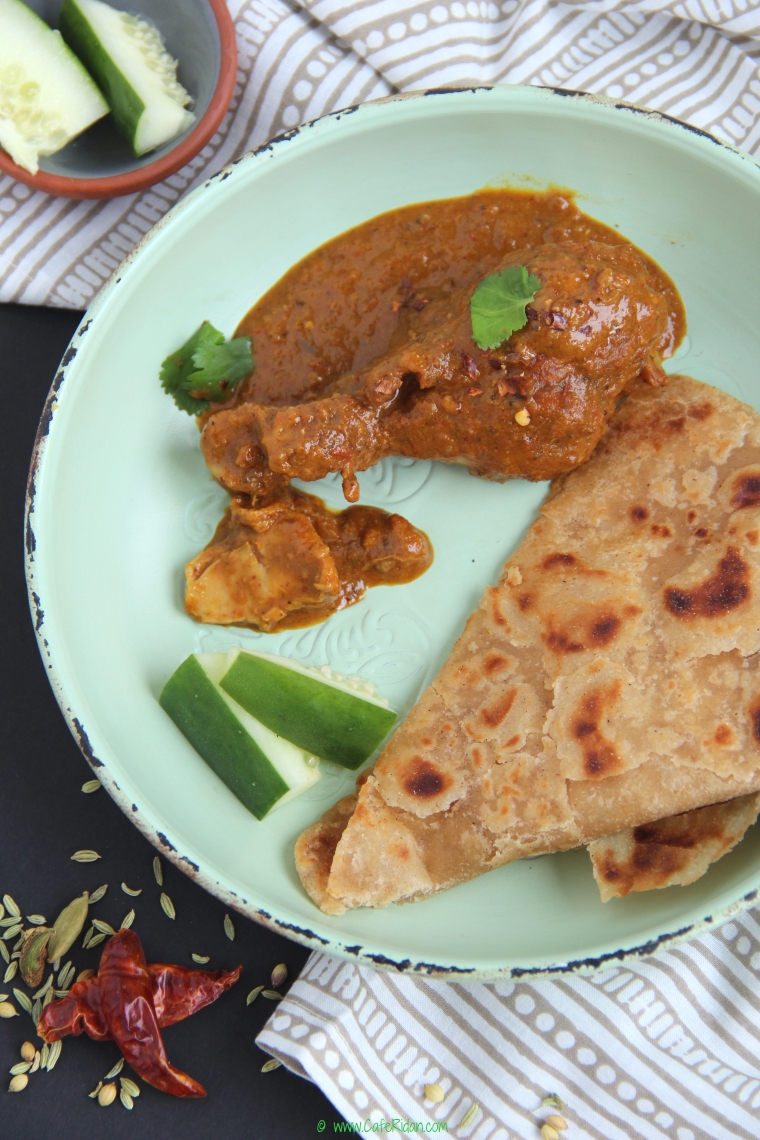 Here is how I make it…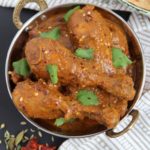 KERALAN KOZHI KUTTAN (Chicken curry with chillies and coconut milk)
2018-06-08 10:37:40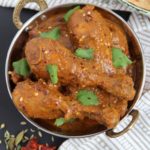 Serves 6
Ingredients
1 teaspoon ground turmeric
2 tablespoons Greek yogurt, whisked
3 pounds bone-in skinless chicken
3 tablespoons coconut oil or vegetable oil
3 red onions, thinly sliced
4 tomatoes, pureed
1 (5.5 ounce) can coconut cream or thick coconut milk
3 teaspoons salt, divided
1/8 teaspoon red pepper flakes, for garnish
1 teaspoon fresh cilantro leaves, for garnish
FOR THE PASTE
1 tablespoon coconut oil or vegetable oil
2 inch piece ginger, peeled and roughly chopped
12-15 garlic cloves, peeled
1 tablespoon coriander seeds
4 dried whole red chillies
3 teaspoons fennel seeds
1 teaspoon black peppercorns
3 inch cinnamon stick
10 cardamom pods
Instructions
In a bowl whisk together turmeric, yogurt and pinch of salt. Add the chicken pieces and coat well with the marinate. Marinate for about an hour.
To make the paste, heat 1 tablespoons of coconut oil in a frying pan on medium heat. Add the ginger and garlic and fry for about a minute. Then add the rest of the paste ingredients and fry for another minute for two until lightly brown and fragrant. Cool and then blend into a smooth paste with roughly a half cup of water. Set aside.
Heat a heavy bottom pan on medium heat and add 3 tablespoons of coconut oil.
Add onion with a 1/2 teaspoon of salt. Saute until the onions are brown. This should take about 10 minutes.
Add the pureed tomatoes. Stir well and cook for another 3-4 minutes.
Add the spice paste and cook for about 10 minutes stirring often until the sauce is thick and the oil separates.
Then add the chicken and stir well to coat in the paste. Cook the chicken for 5-7 minutes until slightly brown.
Add 1 cup of water and 2 teaspoons of salt. Mix well, cover and cook on low medium heat for 25-30 minutes until the chicken is cooked through.
Add the coconut cream, stir well and simmer for another 5 minutes.
Garnish with chilli flakes and cilantro. Serve hot with parathas, roti or steamed rice.
Adapted from Indian kitchen by Maunika Gowardhan
Café RiDAN https://www.caferidan.com/