To me this is the best homemade mutton curry ever! Growing up in India dad made this curry for us almost every weekend. Even if we went out for a picnic, I distinctly remember we had a red insulated food carrier that had three containers… two would be full of this curry and one with hot parathas. It was the best picnic lunch ever. Even when Karan came home for the first time this is what dad made for lunch… I think that's what sealed the deal 🙂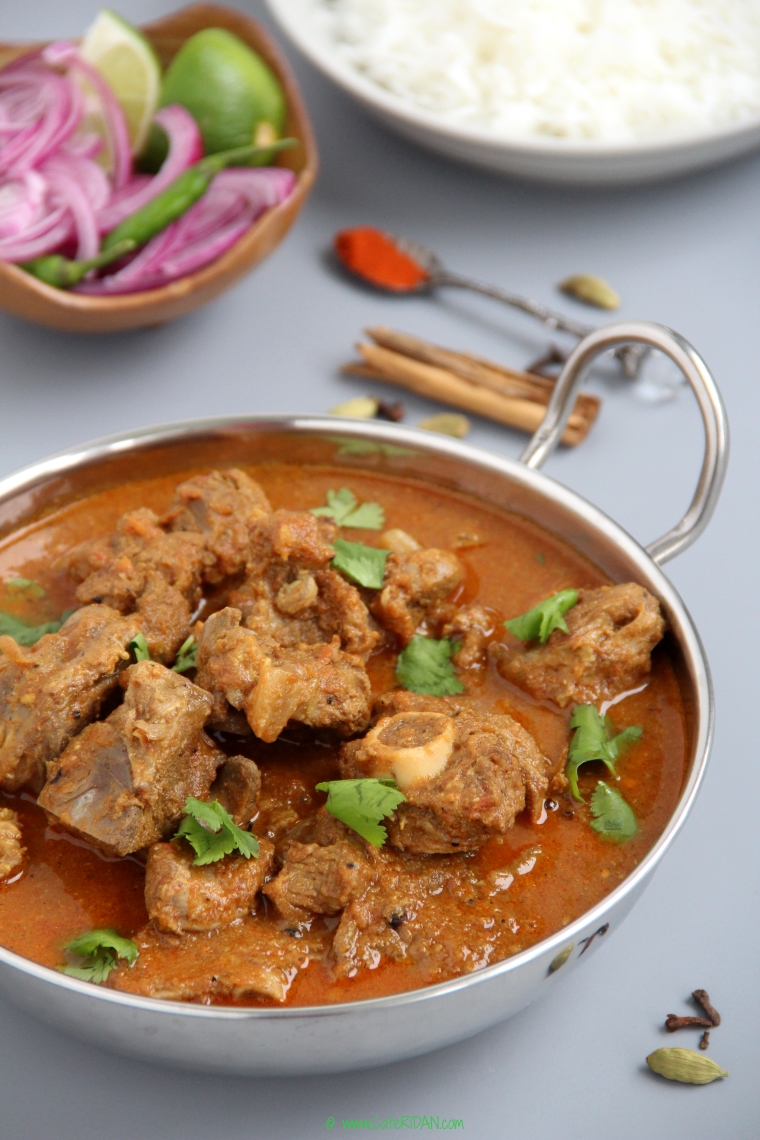 This curry is made with goat meat. In India, when you say mutton or meat it is goat meat and not lamb. You can buy goat meat in the U.S. at most Pakistani or Bangladeshi grocery stores. Ask the butcher for gol, raan and chap medium size pieces of meat. Goat meat has a stronger flavor and is less fatty then lamb. Since it has less fat goat meat is best cooked on low heat for a longer period of time. High temperatures can make the meat tough. If you cannot find goat meat you can substitute it with lamb. Though I have to say this curry tastes best with goat meat.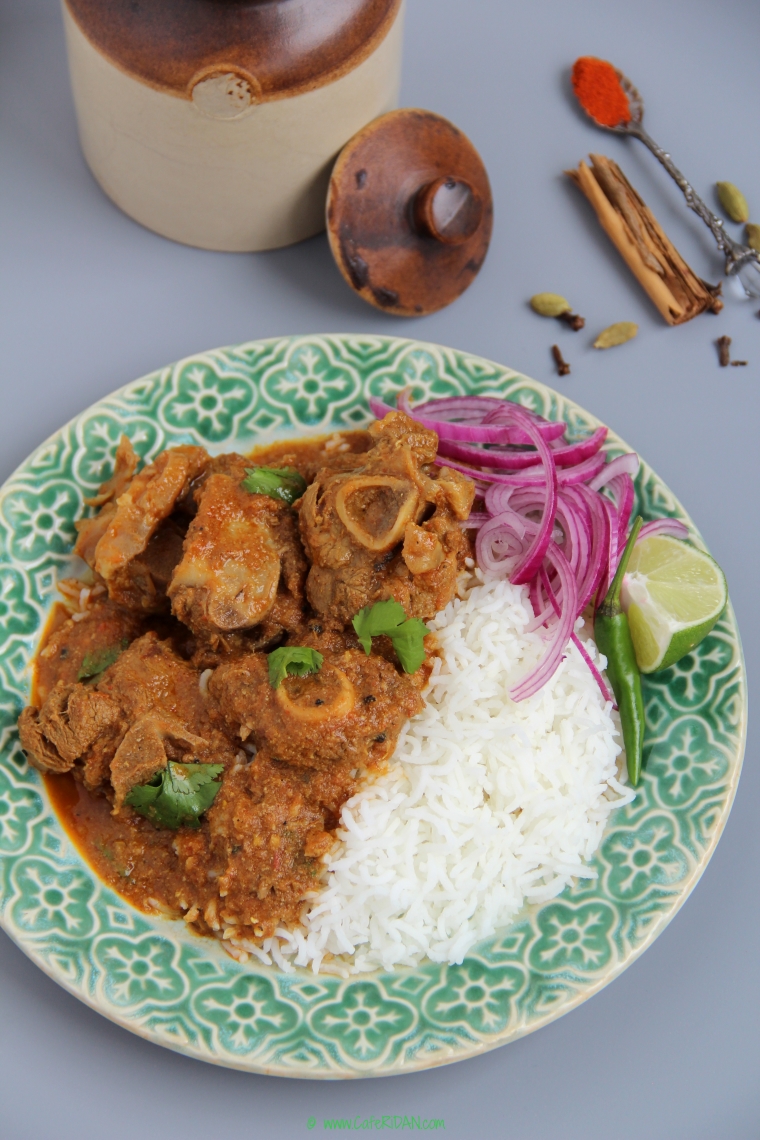 Another thing my dad does differently is use water flavored with cumin seeds, whole red chilies, bay leaves and black cardamom. When the meat is slow cooked in this water it really absorbs the flavors from the water. Ginger and garlic paste is mixed with water to prevent them from burning. And finally I know three quarters of a cup of mustard oil might seem a lot but you need that much for the meat to roast and cook properly. Once the curry is done you won't even notice it's there.
Here is how he makes it…
PAPA'S MUTTON CURRY RECIPE
2018-06-14 22:42:06
Serves 4
Ingredients
6 cups water
4 dry red chilies
2 teaspoons cumin seeds
4 bay leaves
1 black cardamom
8 peppercorns
10 cloves
6 green cardamom
1-inch stick cinnamon
3/4 cup mustard oil
1 green chili, finely chopped
1 onion, pureed or finely grated
1 teaspoon turmeric powder
2 pounds Mutton(Goat meat) or lamb
2 teaspoons salt
1 tablespoon coriander powder
1 tablespoon ginger paste
1 tablespoon garlic paste
1/4 cup water
5 tablespoons yogurt, whisked
2 tomatoes, pureed
2 teaspoons kashmiri red chili powder(degi mirch) or any mild chili powder
1 tablespoon fennel powder
Instructions
In a medium saucepan add 6 cups water, dry red chilies, cumin seeds, black cardamom and bay leaves. Bring to a boil and then simmer for 5 minutes. Strain and set aside.
Using a mortar pastel coarsely grind peppercorns, cloves, green cardamom and cinnamon stick. Set aside.
In a large pot heat the mustard oil on medium heat until it starts to smoke slightly.
Add the crushed spices and green chili. Saute for a minute.
Add onions. Fry till lightly brown in color.
Add turmeric powder and the meat. Fry on medium heat stirring often for about 8-10 minutes till the meat is lightly browned. Then add the salt. Cover and cook for 8-10 minutes on medium heat until oil separates.
Add coriander powder. Cook uncovered for 5 minutes. Add a little of the flavored water if it sticks to the pan.
Mix the ginger paste and garlic paste with 1/4 cup water. Add to the meat. Cook for another 5 minutes.
Turn the heat down to low and add the yogurt. Cook for 5 minutes stirring continuously until the water evaporates.
Add tomato puree, saute for a couple minutes, cover and cook for 10 minutes.
After 10 minutes add the kashmiri chili powder and fennel powder.
Cook covered for another 15 minutes. Then add in all the flavored water and boil for 5 minutes. Put the lid on and simmer covered for another 20 minutes or until meat is cooked.
Serve hot with steamed rice or parathas.
Café RiDAN https://www.caferidan.com/