If I am ever given a list of restaurant options and one of them happens to be middle eastern, you bet that's the one I am picking. Nothing is overly spiced yet so flavorful. One such flavorful dish I came across at a Lebanese restaurant was Fatteh and I just had to recreate it at home. I looked up and tried lots of different recipes and adapted this one from Nigella Lawson. In Arabic "Fatteh" literally means "crumbs". Toasted pita and left overs are put together to recreate a new dish.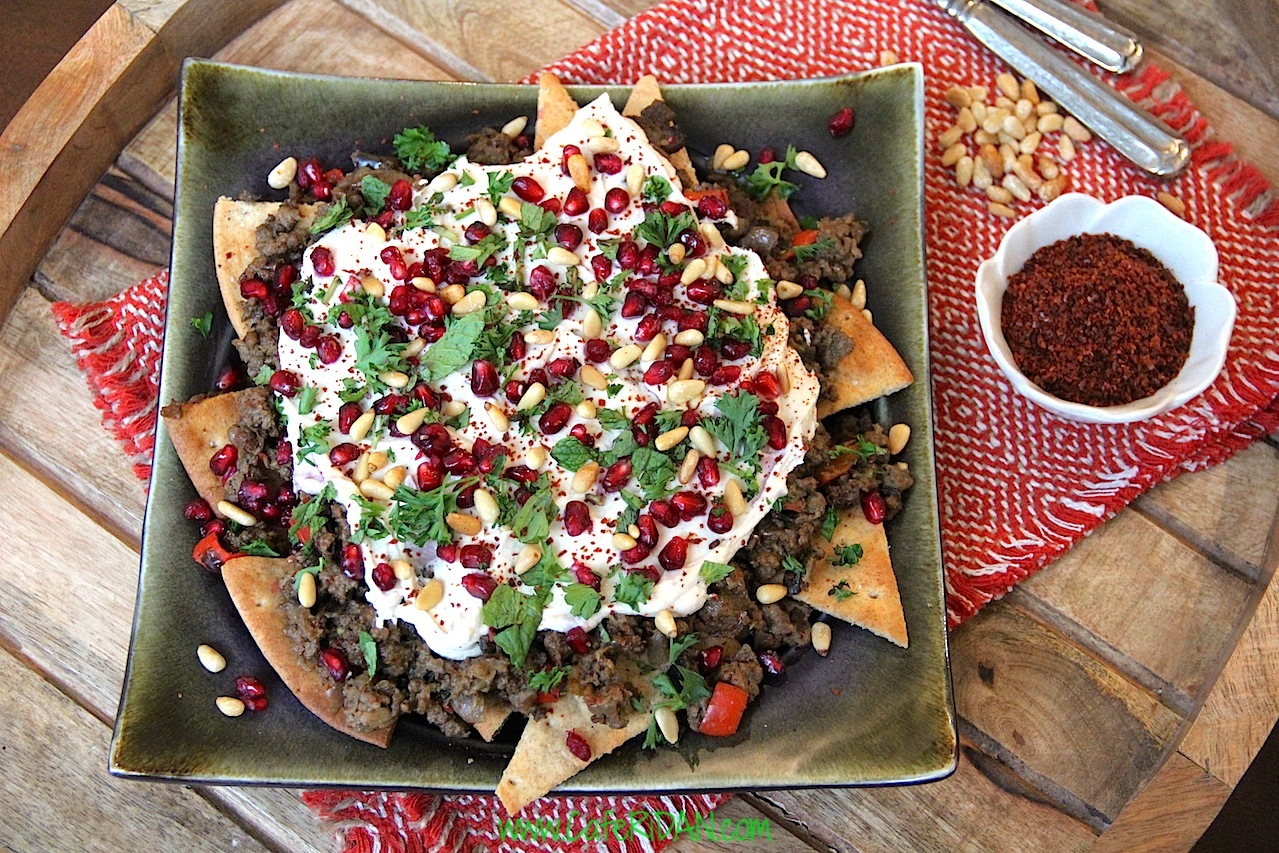 Every mouthful of this dish is layered with flavor. The eggplant adds a creamy texture to the meat while the cumin and coriander provide a warm earthy flavor. I have used Israeli Zaatar for this recipe which is a blend of thyme, dill, oregano, sumac, white sesame seeds and salt. Its floral and lemony with a nutty flavor from the sesame seeds. Aleppo pepper adds fruity, salty medium heat. You can always substitute it with regular chili powder if you like. The yogurt sauce is nutty, tart and garlicky. The pomegranate seeds and parsley provide a sweet fresh flavor and a crunchy bite to the entire dish.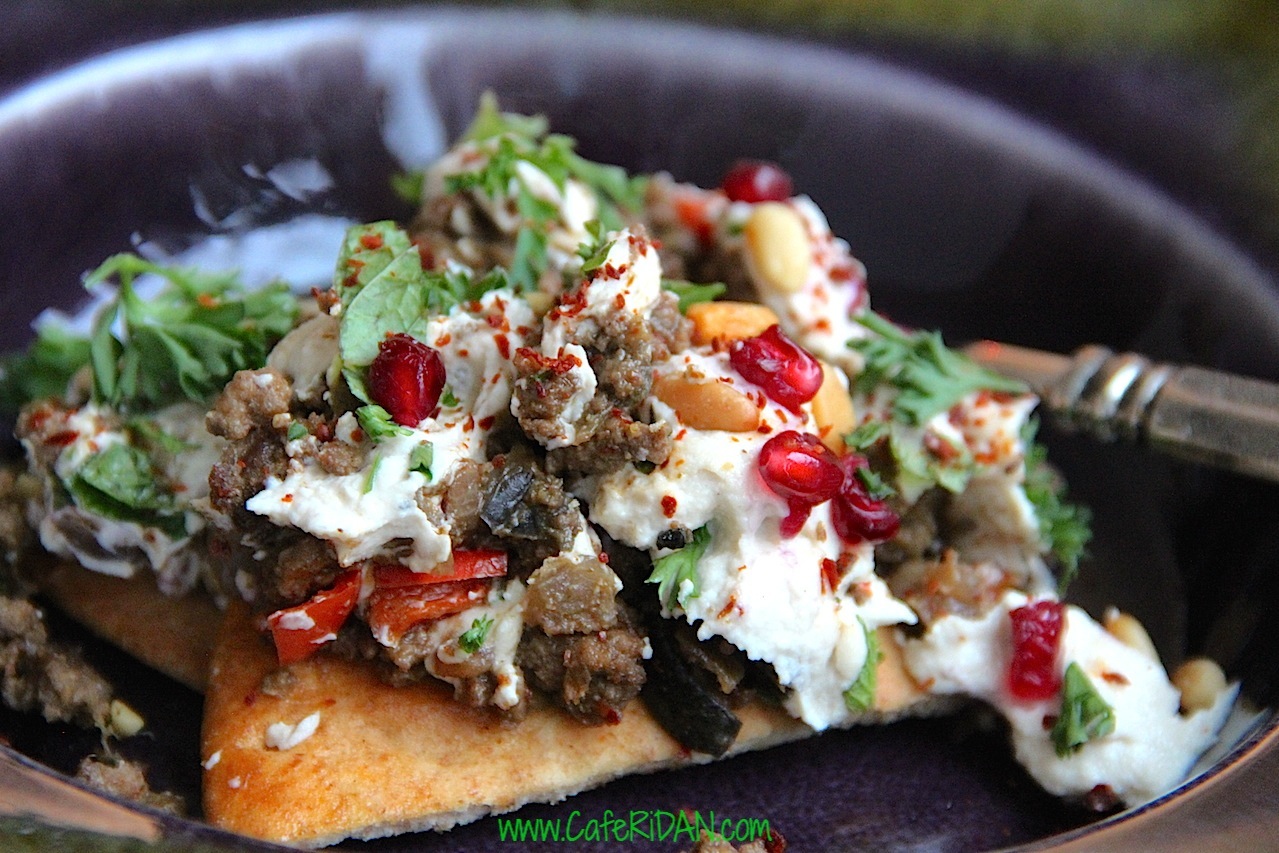 This dish is great for a dinner party or get together and can be served as main course or an appetizer. Everything can be made the day before and assembled right before you need to serve it. Personally, I prefer it warm but it is equally good at room temperature.
Here is how I make it…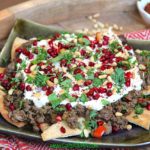 FATTEH
2018-01-26 15:27:38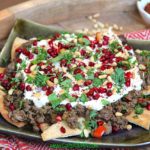 Serves 4
FOR PITA
4 pitas, cut into 8 pieces
1 tablespoon olive oil
½ teaspoon salt
½ teaspoon pepper
FOR VEGETABLE AND MEAT
2 tablespoons olive oil
1 pound ground beef, lamb or chicken
2 ½ cups eggplant, small diced
1 cup onion, small diced
½ cup zucchini, small diced
4 teaspoons ground cumin
4 teaspoons ground coriander
2 teaspoons zartaar
3 teaspoons Aleppo chili pepper
2 teaspoons salt
FOR YOGURT SAUCE
1 cup greek yogurt
½ cup tahini sauce
¼ teaspoon salt
1 tablespoon lime juice
½ teaspoon pepper
2 garlic cloves, grated
FOR GARNISH
¼ cup pomegranate seeds
¼ cup chopped parsley
2 tablespoons toasted pine nuts
Instructions
Preheat oven to 400 degrees F.
Place pita triangles in a mixing bowl and toss with olive oil, salt and pepper.
Place evenly on a baking sheet and bake for 12 to 15 minutes until crisp and golden brown.
Heat olive oil in a pan on medium heat.
Add onions, eggplant, zucchini and bell peppers. Sauté for 5 minutes stirring often.
Add ground cumin, ground coriander, zaatar, Aleppo pepper and salt. Sauté for another 5-7 minutes until the vegetables are golden brown and tender.
Add beef or any other ground meat and mix well. Cook until the meat is cooked completely. This should take about 15-20 mins.
Place greek yogurt, tahini sauce, lime juice, grated garlic cloves, salt and pepper in a heat proof bowl.
Place the bowl over a sauce pan of simmering water. Make sure the bottom of the bowl does not touch the water. Cook the sauce on the double boiler for 5 minutes stirring constantly. Remove from heat and set aside.
Take a large serving plate and arrange the pita on it. Place the meat and veggie mixture evenly over the pita. Pour the warm yogurt sauce over the meat. Garnish with pomegranate seeds, parsley and pine nuts. Serve immediately.
Notes
You can make the pita, meat and veggie mixture and yogurt sauce ahead of time. Just warm everything up and assemble before serving. Make sure to warm the yogurt sauce on a double boiler.
You can regular yogurt instead of greek yogurt. The only difference is that the sauce will be slightly thinner in texture.
Adapted from Nigella Lawson's At my table
Adapted from Nigella Lawson's At my table
Café RiDAN https://www.caferidan.com/