These golden, crisp, delicious spring rolls are the perfect game day food! I learnt how to make these spring rolls from Veneranda, my daughter's nanny and a fabulous cook. Having worked in Paris and London, she now runs a small baking business of her own and helps me look after Anaisha a couple days in the week so mama can get some time off.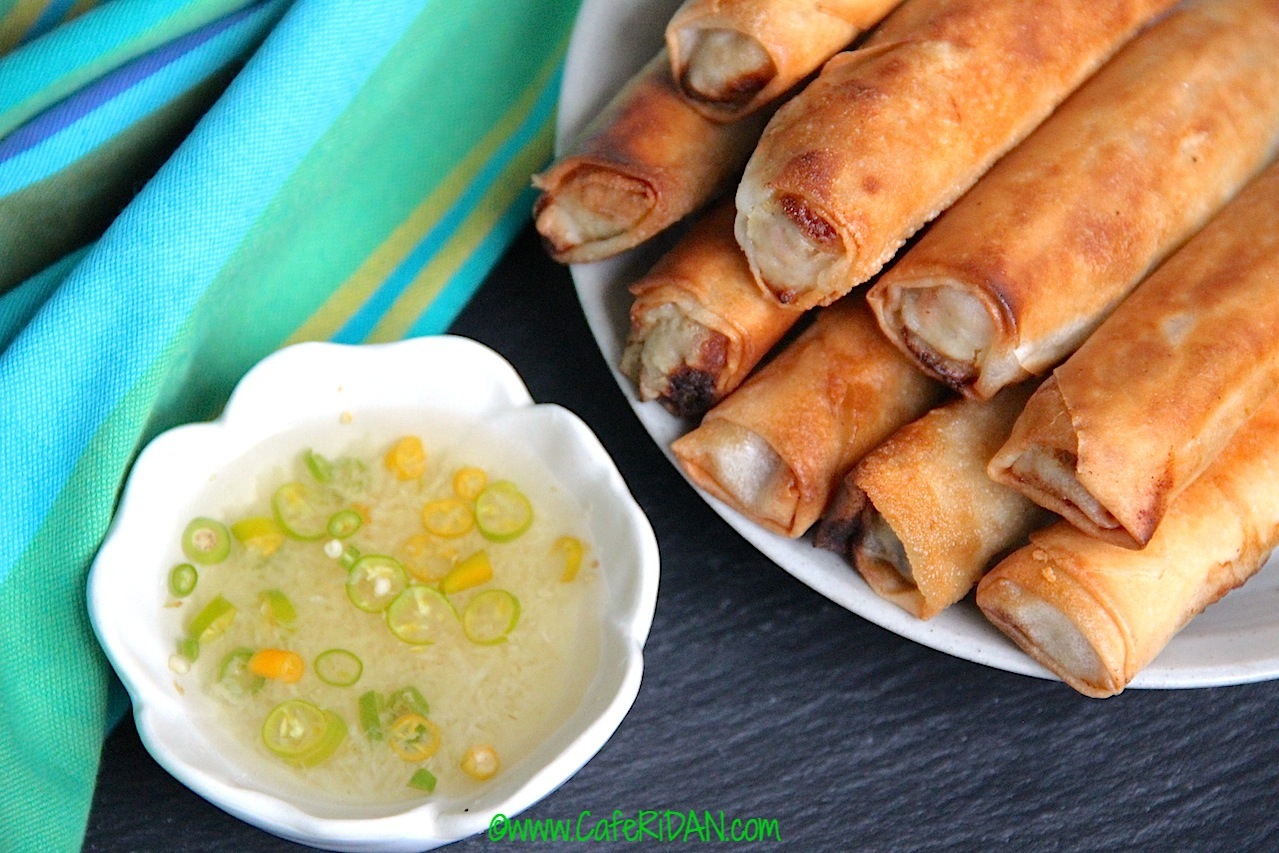 These are traditional Filipino spring rolls called Lumpia. A mixture of lean meat along with onion, carrots, celery, garlic and bean sprouts get rolled into a spring roll sheet and fried until they are crisp & golden brown on the outside and moist & juicy inside. These spring rolls are great to serve to last minute guests or take to a potluck as they can be made ahead and frozen for up to six months. Just thaw them and fry when you are ready to eat. If you need to reheat the spring rolls place them in an oven preheated to 300 degrees F for 5-10 minutes.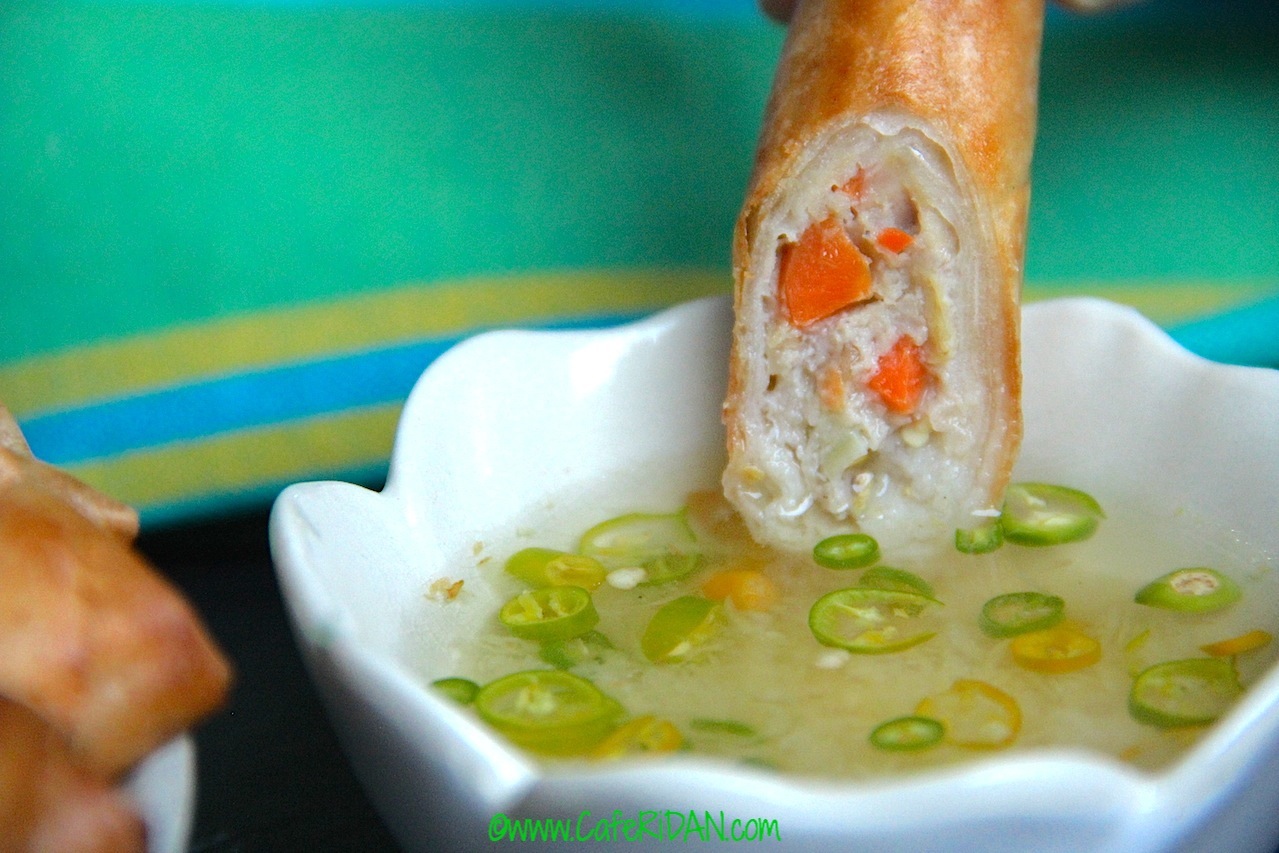 The dipping sauce is absolutely delicious. It is sweet and tangy with freshness from the ginger and a kick of spice from the chilies.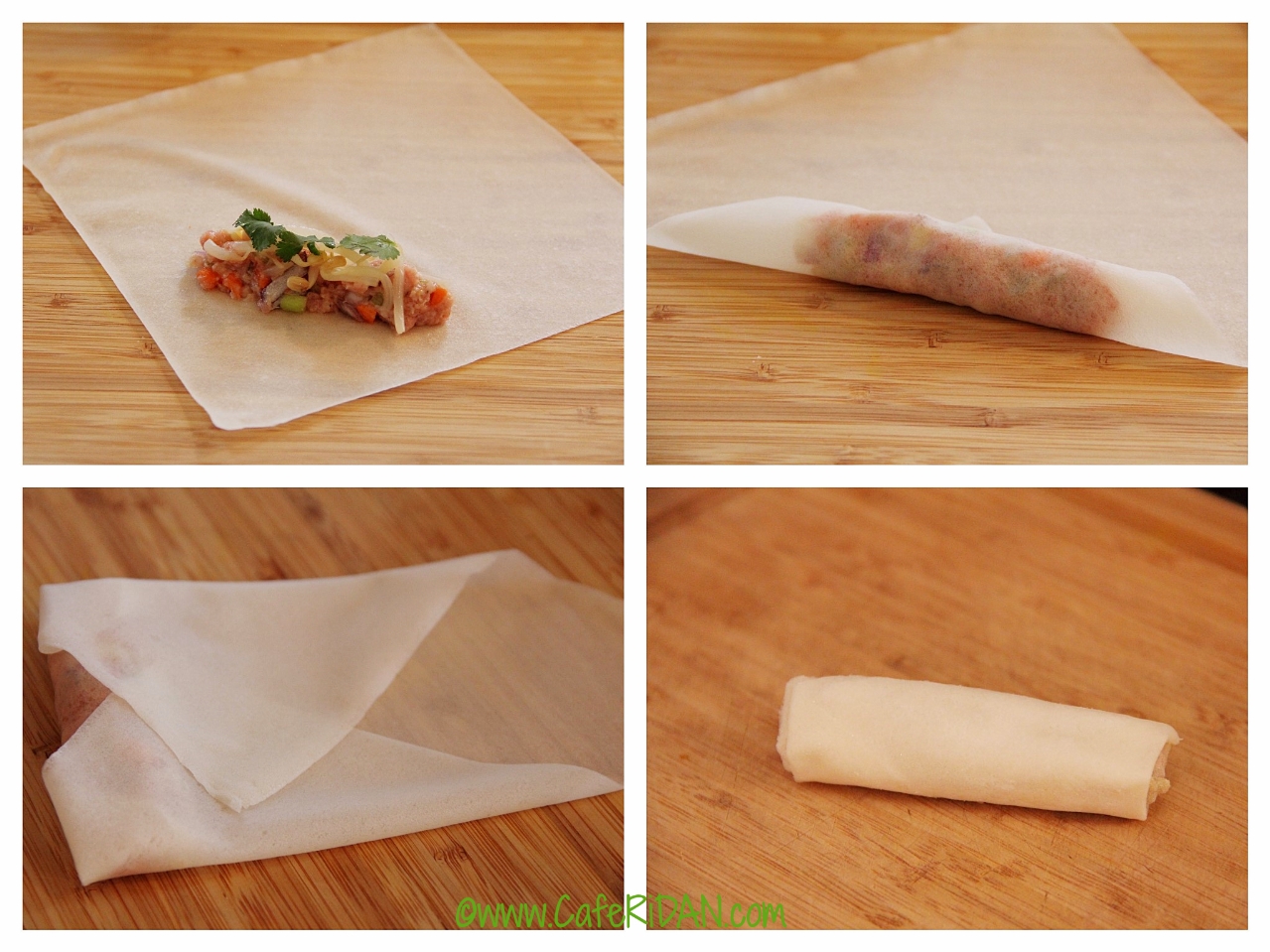 Here is how I make them…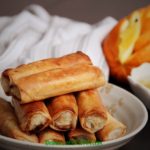 FILIPINO SPRING ROLLS (LUMPIA)
2018-02-02 15:59:39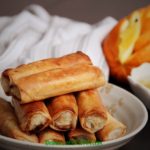 FOR SPRING ROLLS
½ onion, finely chopped
1 carrot, finely chopped
2 celery stalks, finely chopped
3 cloves garlic, finely chopped
½ cup bean sprouts
½ pound lean ground pork (can use beef instead)
½ cup cilantro, leaves only
½ tablespoon low sodium soy sauce
1 teaspoon salt
½ teaspoon pepper
2 eggs
25 spring roll pastry sheets
Oil for frying
FOR DIPPING SAUCE
4 tablespoons water
1 garlic clove, minced
1 teaspoon ginger, grated
1 teaspoon sugar
½ teaspoon salt
¼ teaspoon pepper
1 teaspoons white vinegar
1 teaspoon fish sauce
1 Thai green or red chili, finely chopped
FOR SPRING ROLLS
To a bowl add onion, carrot, celery, garlic, pork, soy sauce, one egg, salt and pepper. Mix well.
Beat the second egg in a bowl and set aside.
Arrange the spring roll sheet on a dry cutting board and position them at an angle so that the corner of the sheet is closest to you.
Place one heaping tablespoon of the pork mixture at an angle in the lower quarter nearest to you of the spring roll wrapper. Add a few bean sprouts and a couple of cilantro leaves. Beginning at the bottom angle closest to you, roll the wrapper up tightly and fold the edges inward along the way. Roll the wrapper shut by adding a little dab of the beaten egg at the corner. Press lightly to seal the edge together. (See picture above)
Roll all 25 spring rolls. At this point you can freeze the spring rolls if you do not wish to fry them the same day.
Heat some oil in a pan. Oil should be about an inch deep. Fry spring rolls on medium heat until golden brown and drain on a paper towel. Turn the spring rolls a couple of times so that they brown evenly. Serve hot with the dipping sauce.
FOR DIPPING SAUCE
Mix all ingredients in a bowl and stir until sugar is completely dissolved. Cover and let it rest for atleast an hour before serving.
Notes
Make sure to fry the spring rolls on medium heat other wise they will brown too quickly from the outside and will not be completely cooked inside.
If you need to reheat the spring rolls place them in an oven preheated to 300 degrees F for 5-10 minutes.
Café RiDAN https://www.caferidan.com/