I have been making these chocolate crepes for a while with different fillings. A couple weekends ago we were going over to a friend's place for brunch. The night before after I put baby to bed I realized it was their anniversary weekend. Of course, I had to take them a dessert! With no time to bake a cake or go grocery shopping I whipped up this filling from what I had in my refrigerator and the result was absolutely delicious.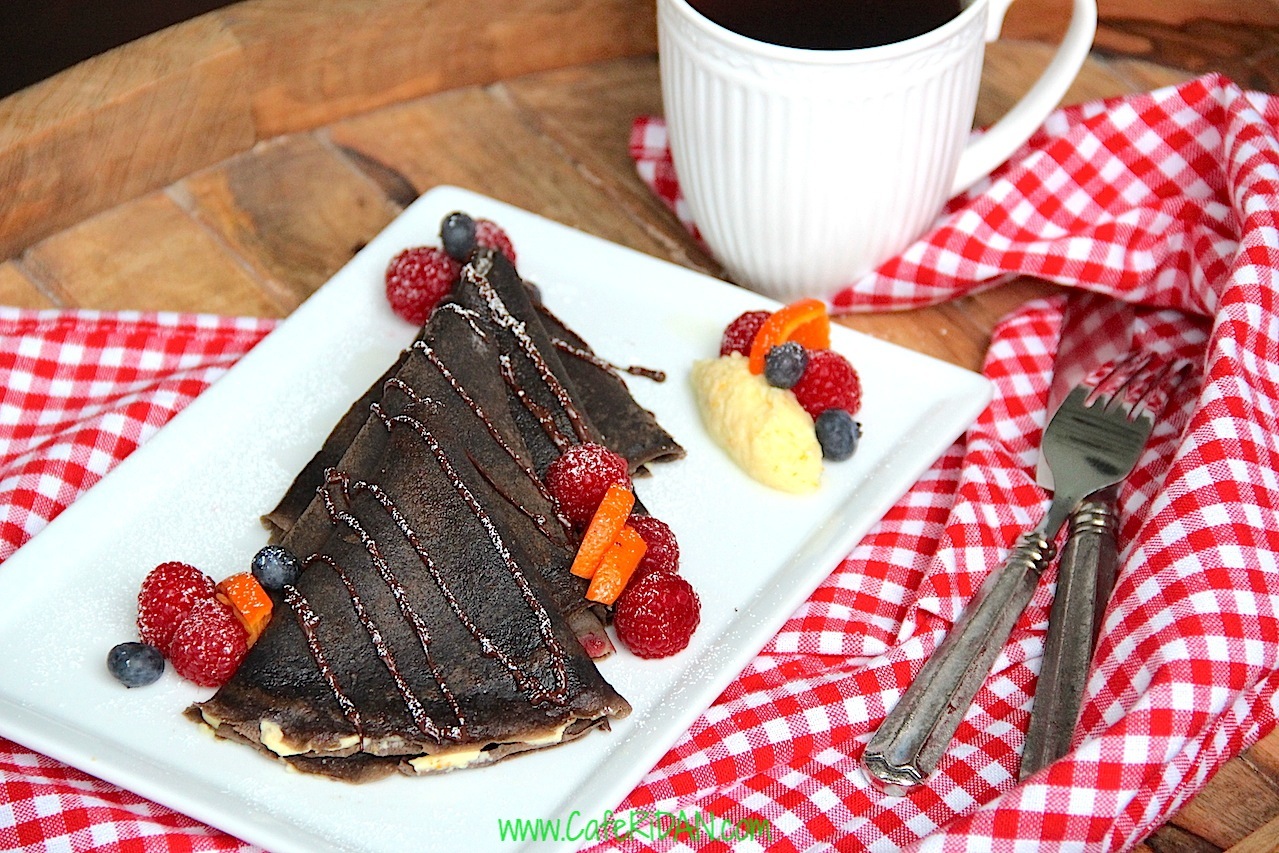 I have adapted this crepe recipe from Julia Child's original crepe recipe. They are chocolaty, light and moist. What I love about this recipe is that the crepe itself is not overly sweet. If you mess up the first couple of crepes (like I usually do) don't worry, you will get the hang of it. After you make the first crepe try to gauge if you need less or more batter. You will also get better with swirling and flipping with each crepe.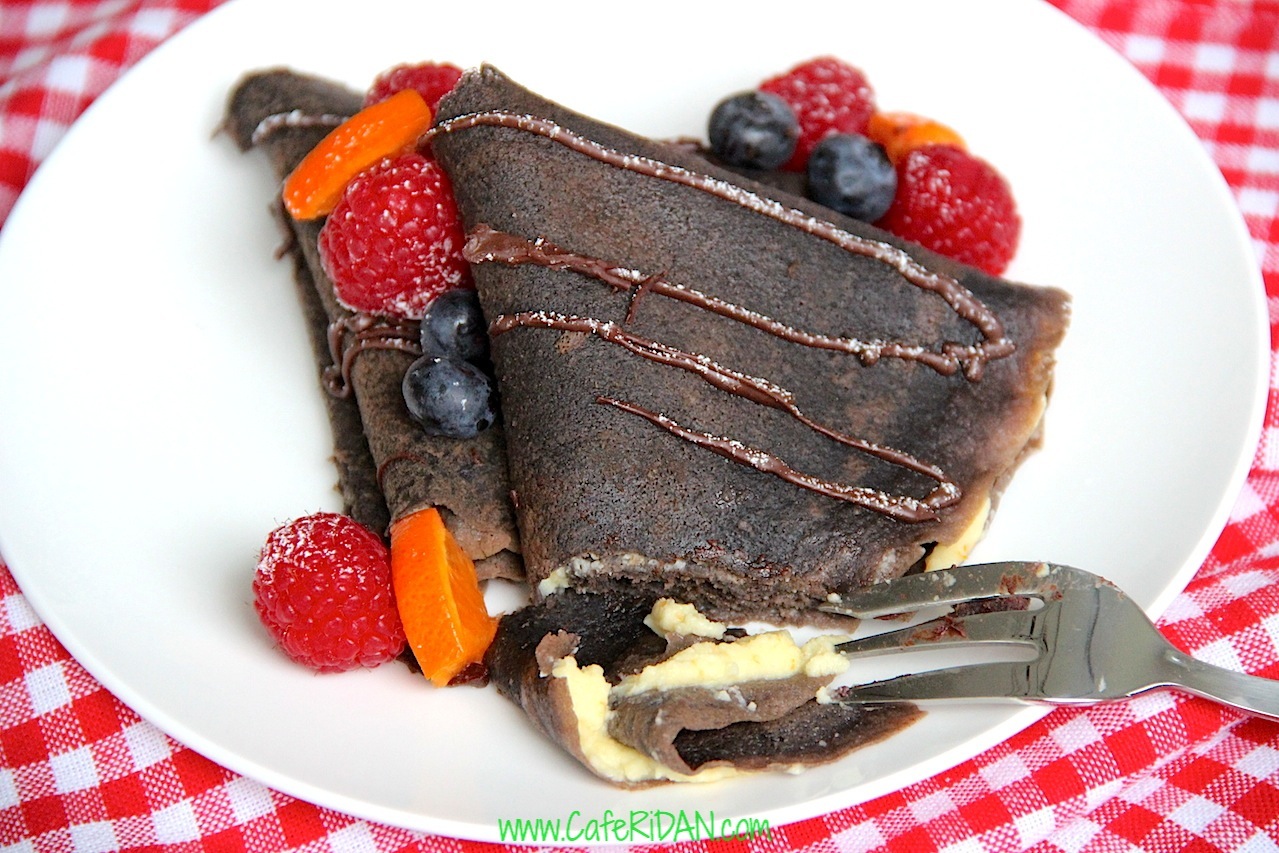 The mascarpone and crème fraiche make the filling rich, creamy and buttery with a slight tang. The orange zest adds an amazing freshness to the dessert and Grand Marnier takes the flavor up a notch. You can replace the liquor with orange juice concentrate. This recipe is perfect for brunch or dessert any time for the day.
Here is how I make it…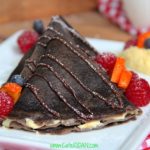 CHOCOLATE CREPE WITH ORANGE MASCARPONE FILLING
2018-02-09 23:49:29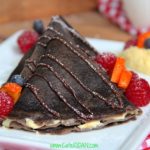 FOR CHOCOLATE CREPE
1 cup whole milk, at room temperature
1 cup water, at room temperature
4 eggs, at room temperature
1 ½ cups all-purpose flour
¼ cup cocoa powder
2 tablespoons sugar
4 tablespoons unsalted butter, melted
FOR FILLING
8 ounces mascarpone
8 ounces crème fraiche
½ cup icing sugar
2 tablespoons Grand Marnier (orange liquor)
2 tablespoons orange zest
TO SERVE
Chocolate sauce & fresh berries (optional)
Instructions
Place all of the ingredients for the crepes into a blender. Blend ingredients until smooth and clump free. If you don't have a blender, in a large bowl whisk together the milk, water, eggs and melted butter. In a separate bowl sift together the flour, cocoa and sugar. Then gradually add the dry ingredients to the wet ingredients, whisking until no clumps remain. Do not over mix. Allow the crepe batter to chill in the fridge for at least two hours or overnight.
Preheat a 9 or 10-inch non-stick frying pan over medium heat. Brush a thin layer of butter on to the pan. You can also use some nonstick cooking spray. Add roughly about 1/4 cup crepe batter into the center and tilt pan to spread the batter evenly to the edges. In about 30 seconds the edges of crepe will start to turn golden, use a spatula to flip the crepe over. Cook about 30 seconds on the second side. Stack ready crepes onto a plate. Allow them to cool before assembling.
To prepare the filling place all the ingredients in a mixing bowl and whisk until well combined.
To assemble spread a couple tablespoons of the filling on one half of the crepe. Fold the other half of the crepe over. Gently press down and then fold over one more time into quarters. You can also spread the filling over the entire crepe and roll them.
Drizzle some chocolate sauce over the crepe and serve with fresh berries.
Notes
The crepes and filling can be made a day before and refrigerated in separate airtight containers.
Adapted from Julia Child's original crepe recipe
Adapted from Julia Child's original crepe recipe
Café RiDAN https://www.caferidan.com/