Today I am sharing my favorite chocolate cake recipe. This is my granny's recipe who is an amazing cook. We spent summer vacations at her home in Calcutta along with my cousins and would wait all day for tea time. Granny would always have something special laid out…cakes, tarts, cookies, sandwiches and every single one of them was absolutely delicious. This cake was one of my favorites and also happens to be one of the first chocolate cakes that my mom baked. This cake is chocolaty, fudgy, moist, decadent and a chocolate lover's delight.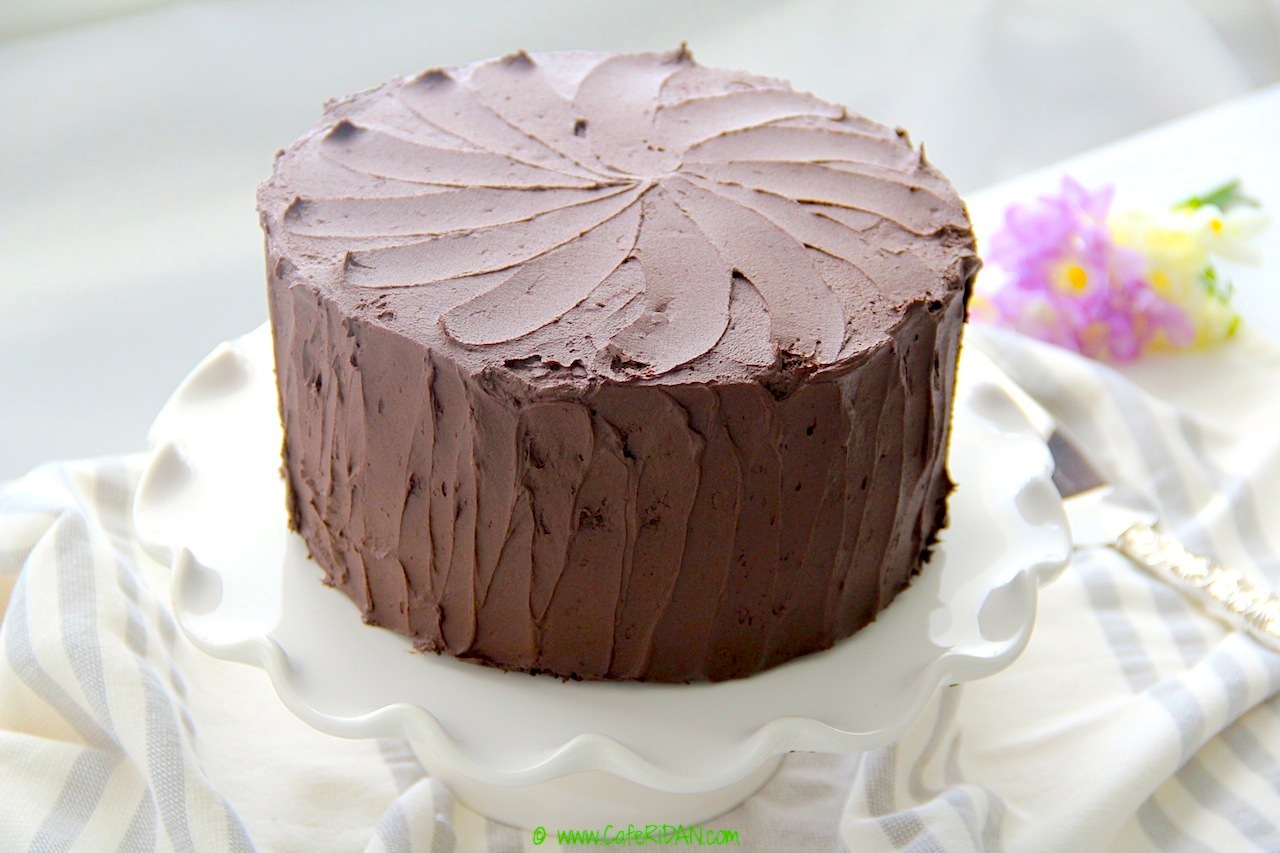 I have made this cake countless times and the recipe is foolproof. Buttermilk makes this cake light and keeps it moist. One thing to remember is that the butter, eggs and buttermilk should be at room temperature. This makes a huge difference to the consistency of the batter and the cake. While baking also remember to use unsalted butter. A friend once asked me, "why do we need to use unsalted butter when the recipe asks for an addition of salt?" This is because when you use salted butter you cannot control the quantity of salt in the recipe.
Another common mistake is not whipping the butter, sugar and eggs enough while over beating the flour. The butter and sugar must be beaten well for at least 5 minutes until pale, almost white in color. It should be light and airy. Also add the eggs in one at a time to allow them the combine properly. Crack you eggs in a separate bowl and then add them to the mixture so you do not get any eggshells in the batter. Flour should be mixed or folded into the batter until just combined. Over mixing will release the gluten in the flour that will make the cake heavy and almost leather-like.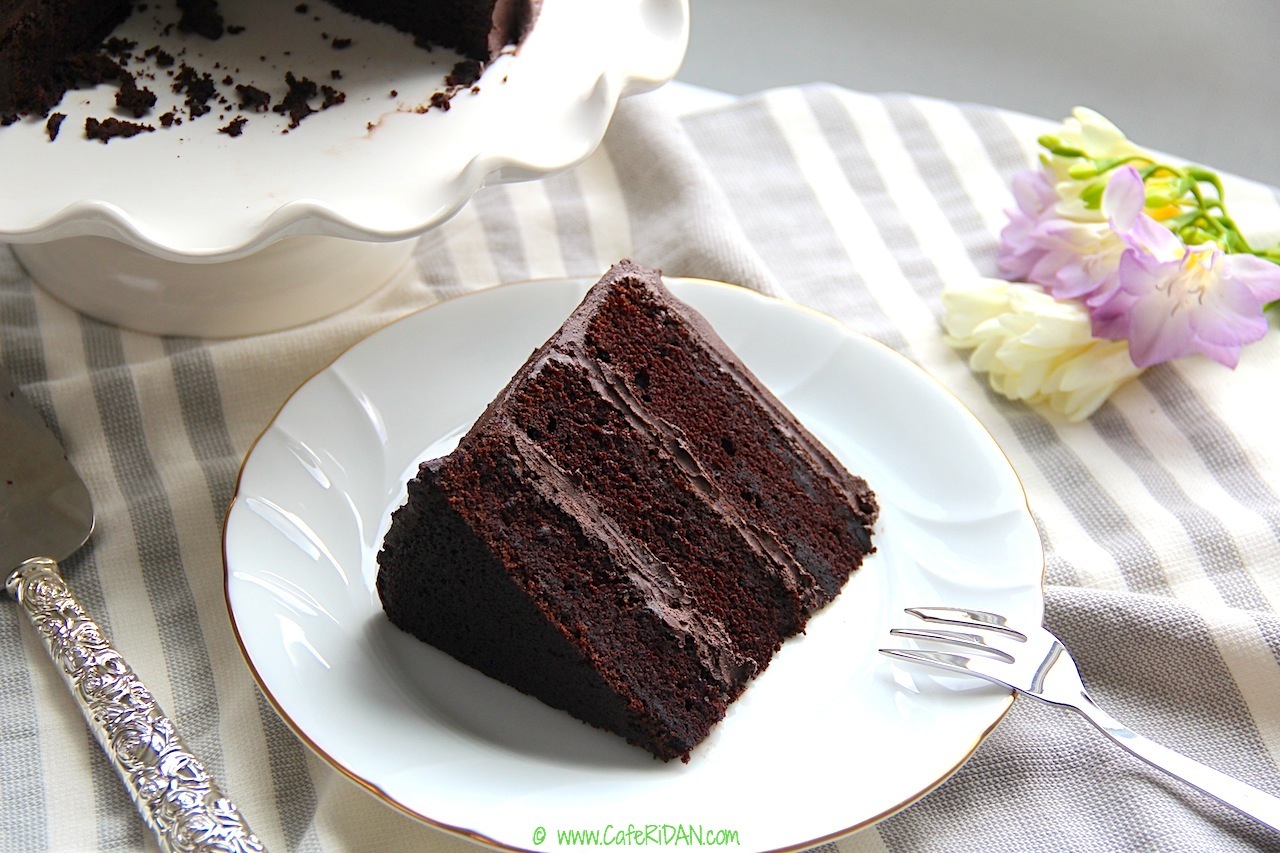 Everyone has a favorite go to recipe for chocolate cake and this is mine. Perfect for any occasion and any time of the day.
Here is how I make it…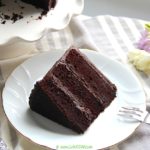 GRANNY'S CHOCOLATE CAKE
2016-07-23 07:23:50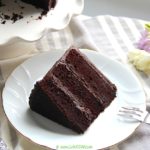 Serves 10
FOR THE CAKE
1 cup boiling water
2/3 cup cocoa powder
2 teaspoon baking soda
1 teaspoon instant coffee granules
1 cup unsalted butter, at room temperature plus extra for greasing
2 cups sugar
3 eggs, at room temperature
1 teaspoon vanilla
1 cup buttermilk
2 1/3 cup all purpose flour plus extra for dusting
FOR THE FROSTING
1 cup chocolate chips
1 cup unsalted butter, at room temperature
1 ½ cup icing sugar
1 teaspoon vanilla extract
½ cup cocoa powder, sifted
FOR THE CAKE
Preheat oven to 350 degrees F or 175 degrees C.
Butter and flour three (3) 8-inch round cake pans.
In a small bowl mix together boiling water, cocoa powder, baking soda and coffee until well combined. Set aside.
In the bowl of a stand mixer fitted with a paddle attachment or with a hand mixer, cream together butter and sugar till pale and fluffy. This should take 5 minutes.
With the mixer on low add the eggs, one at a time. Then add vanilla and beat for another 2 minutes. At this point you might feel the mixture has separated a bit. Do not worry.
With the mixer on low, alternately add the flour and buttermilk in three batches. Begin and end with the flour.
Add in the cocoa mixture and mix until well combined. About 30 seconds. Do not over mix.
Divide the batter equally between the prepared tins.
Bake for 35-40 minutes or until a tooth pick inserted into the center of the cake comes out clean.
Allow the cakes to cool on a cooling rack for about 30 minutes. Then carefully loosen the edges with a knife or spatula and invert the cake layers. Allow them to cool completely for at least an hour before icing.
Place one layer of the cake on a cake plate. Using a knife or an offset spatula, spread the top with icing. Place the second layer on top and spread the top with icing. Place the third layer on top and spread the frosting evenly on the top and sides of the cake.
FOR THE ICING
Place the chocolate chips in a heat proof bowl set over a pan of simmering water. Do not let the bottom of the bowl touch the water. Stir until just melted and set aside to cool to room temperature.
In the bowl of a stand mixer fitted with a paddle attachment or with a hand mixer, cream together butter and icing sugar adding half cup at a time on low speed. Do not whip.
Then add in the cocoa powder and vanilla extract and mix until combined on low speed. This should take about 5 minutes.
Add in the melted chocolate and mix for another 2-3 minutes.
Spread immediately on cooled cake.
Notes
If you prefer you can use two (2) 8-inch pans.
Make sure all ingredients are at room temperature unless specified.
If you accidentally over mix the icing and it starts to separate a little, add a couple tablespoons of room temperature water and mix on low until creamy and fluffy.
Café RiDAN https://www.caferidan.com/