Punjabi pakora kadhi is one of my all time favorite dishes. Kadhi is a light and flavorful yogurt based curry and pakoras are spiced onion and chickpea flour fritters. In India, there are many variations to the dish and every part of the country has a different way of making it. This is the north Indian Punjabi version.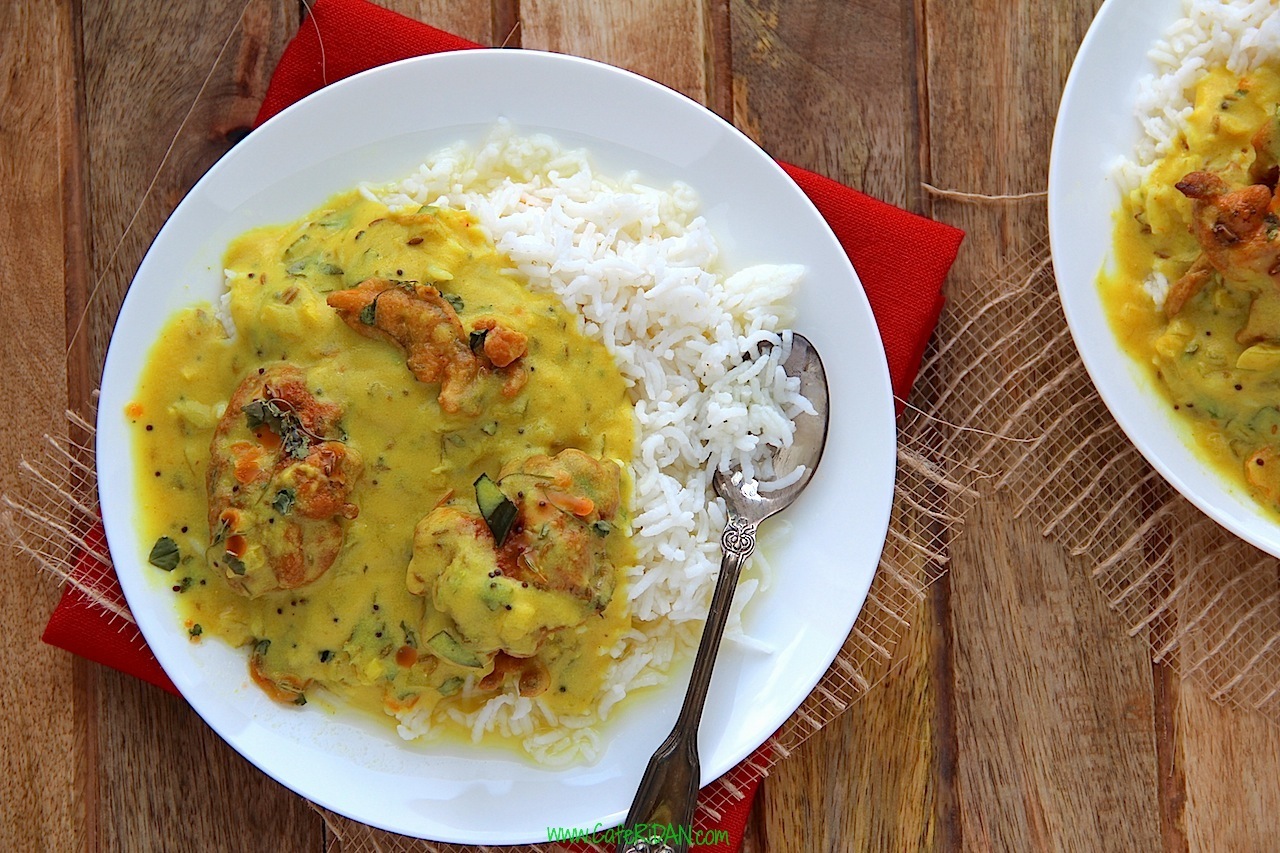 I first learned how to make kadhi from my best friend Naina's mom. She makes the best kadhi ever. Aunty would send kadhi for us to school and we could literally smell it through Naina's bag. We couldn't even wait for the lunch break. The lunch box would be passed around and we would crouch down under our desks to eat it. The aroma did get us into trouble a few times though :).
At an Indian restaurant in Phoenix we once ordered pakora kadhi after a long day. It was very similar to the one I made but with a few more spices. So the next time I made kadhi, I decided to add a few more ingredients to it and the result was amazing. The fennel seeds, mustard seeds and whole dry red chilies give the yogurt curry a distinct licorice and smoky flavor. I also add kasuri methi or dried fenugreek leaves to the kadhi. It tastes like a combination of celery and fennel with a slightly bitter bite. It adds an amazing flavor to the kadhi.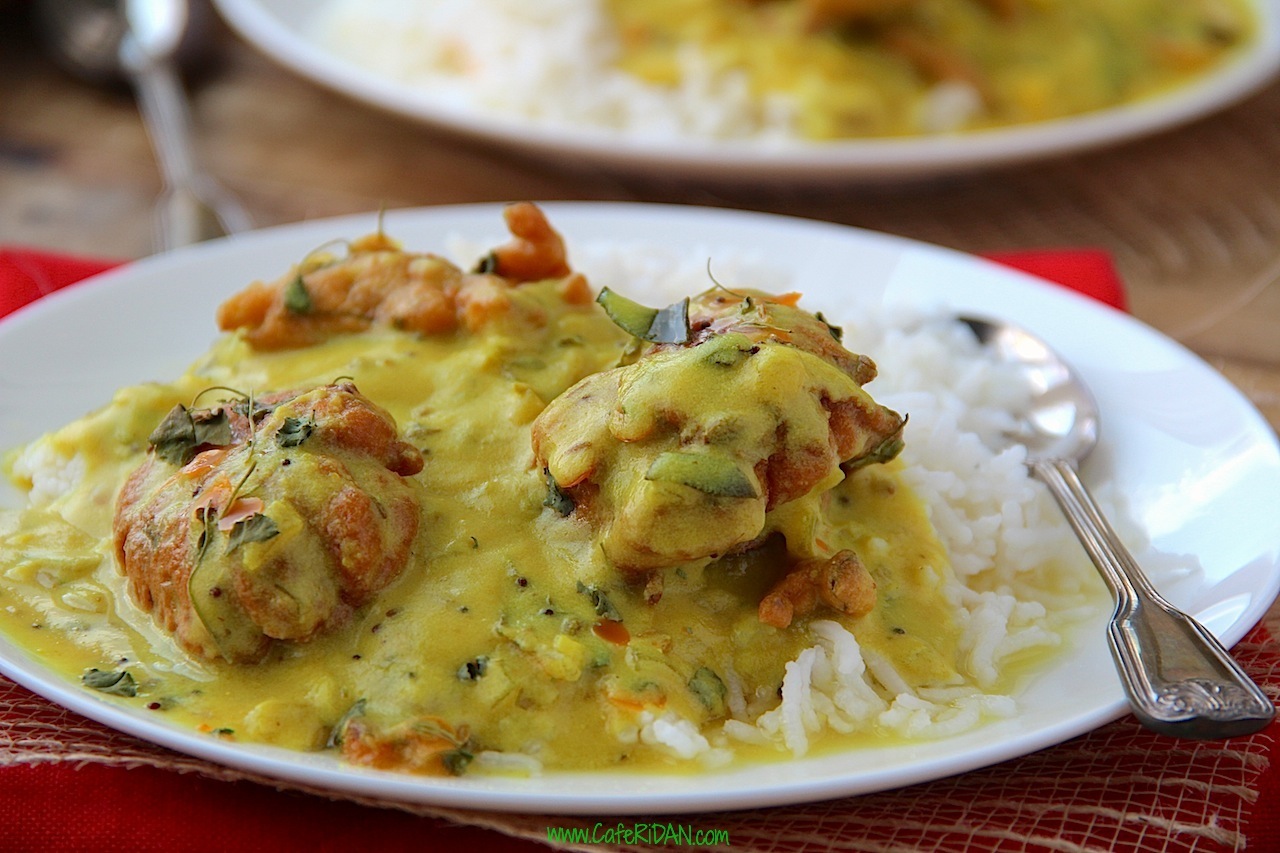 The list of ingredients is long but this pakora kadhi is so light, comforting, tangy and full of flavor. The pakoras soak up the flavors of the kadhi and it tastes delicious served over hot rice with lots of the curry.
Here is how I make it…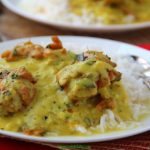 PUNJABI PAKORA KADHI (Indian yogurt curry with spiced chickpea fritters)
2016-07-16 08:49:26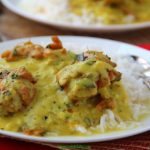 Serves 4
FOR KADHI
½ cup besan (garbanzo bean or chickpea flour)
5 cups water
1½ cups yogurt
1 tablespoon ghee
½ teaspoon fennel seeds
2 whole dry red chilies
½ teaspoon mustard seeds
2 teaspoon cumin seeds
1½ teaspoon turmeric
10 curry leaves, chopped
1 cup onion, finely chopped
1 green chili, finely chopped
2 pods garlic, finely chopped
2 tablespoon kasuri meethi (dry fenugreek leaves)
1 teaspoon cumin powder
1½ teaspoon salt
FOR PAKORA
Vegetable oil, for frying
1 onion, thinly sliced
1 cup water
1½ cup besan (garbanzo bean or chickpea flour)
2 tablespoons yogurt
1 teaspoon ajwain seeds (carom seeds)
1 teaspoon chili powder
1½ teaspoon cumin powder
½ teaspoon black salt (optional)
1 teaspoon salt
2 tablespoons cilantro, chopped
1 tablespoon kasuri meethi (dry fenugreek leaves)
FOR KADHI
In a blender or with a whisk blend the besan, water and yogurt till well combined. There should not be any lumps of the besan. Set aside.
Heat a large pan on medium heat. Add ghee. Once the ghee is hot add cumin seeds, fennel seeds, mustard seeds, whole red chilies, turmeric powder and curry leaves. Let them splutter for a couple of minutes.
Add onions, green chili and garlic. Sauté on medium high heat for about 8-10 minutes till onions are golden brown.
With the heat on medium add yogurt mixture and stir continuously till it comes to a boil. This should take about 7-8 minutes. If it is not stirred continuously the yogurt will curdle. Once it comes to a boil add salt, cumin powder and kasuri methi. Cook covered for 40 minutes stirring occasionally.
Add the pakoras to the kadhi just before serving.
Enjoy with hot rice or chapatis.
FOR PAKORA
In a medium frying pan heat some vegetable oil. The oil should be about 2-inches deep.
In a mixing bowl add all the ingredients for the pakora except the water and onions.
Slowly add in the water and mix till it makes a smooth thick batter.
Gently fold in the onions.
To test if the oil is hot, drop a small bit of the batter in the oil. If it sizzles immediately and floats to the top the oil is hot enough otherwise give it a couple more minutes.
Using a 2-inch diameter cookie scoop or a tablespoon, drop dollops of batter into the oil a couple inches apart from each other. Do not over crowd the pan.
Let it cook on one side for about a minute and then flip the pakoras over to cook for about a minute on the other side until golden brown. Remove from oil with a slotted spoon and drain on a paper towel.
Notes
If the yogurt mixture is at room temperature it will come to a boil faster.
Café RiDAN https://www.caferidan.com/