There is something so elegant yet comforting about a Roast Chicken…crisp golden curst on the outside and moist 'n juicy on the inside. My mouth is watering just thinking about it. This chicken is great for a fancy dinner party or just a cozy dinner for the family at home.
The chicken is marinated with butter, olive oil, fresh herbs, garlic, lemon, paprika, salt and lots of freshly ground black pepper. The chicken cavity is stuffed with a full head of garlic and lemon.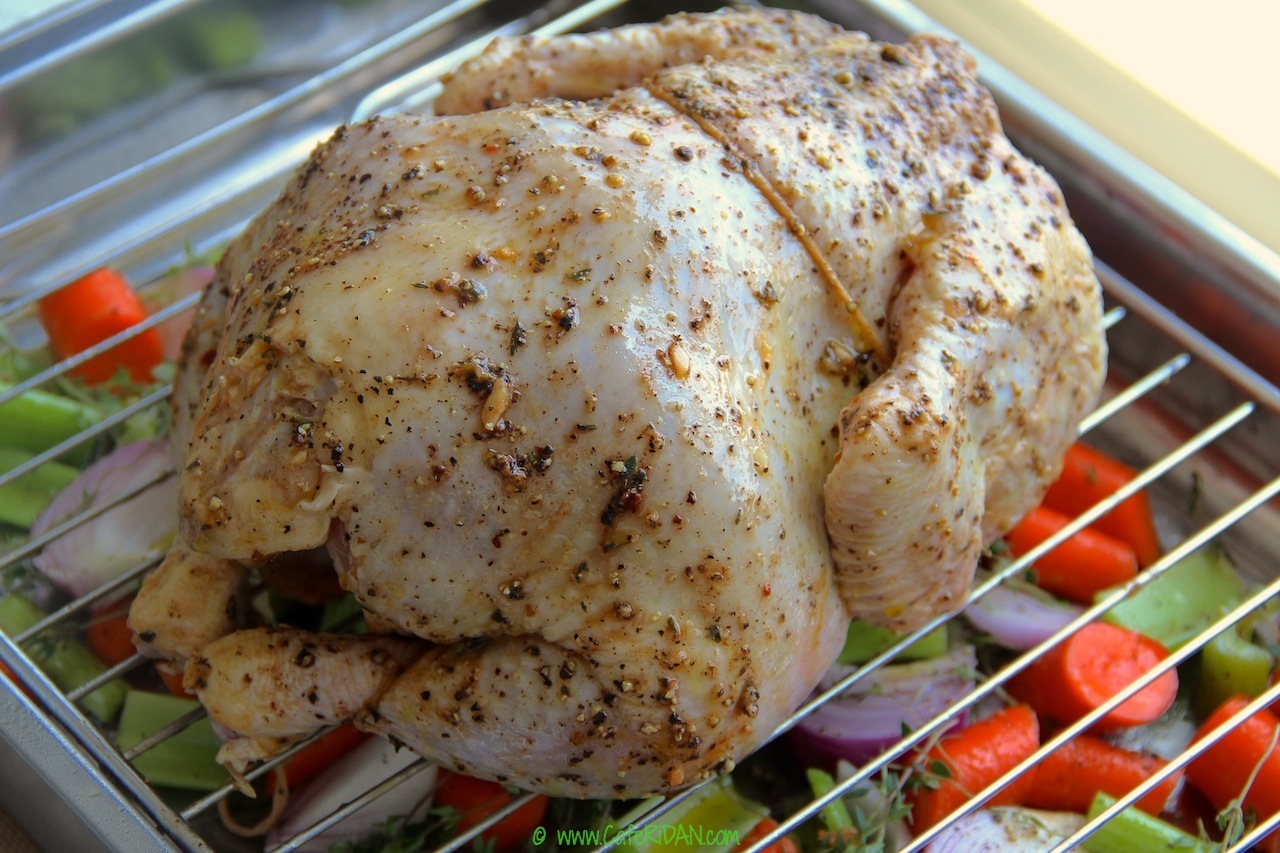 I like to add different vegetables tossed in olive oil, salt and pepper to the bottom of the roasting pan to serve along with the chicken. The moisture from the vegetables also helps to keep the chicken moist. The vegetables roast slowly in the fat and juices from the chicken. Delicious! But if you do not want to add vegetables to the roasting pan, pour some chicken broth at the bottom of the pan to keep the chicken moist as it cooks.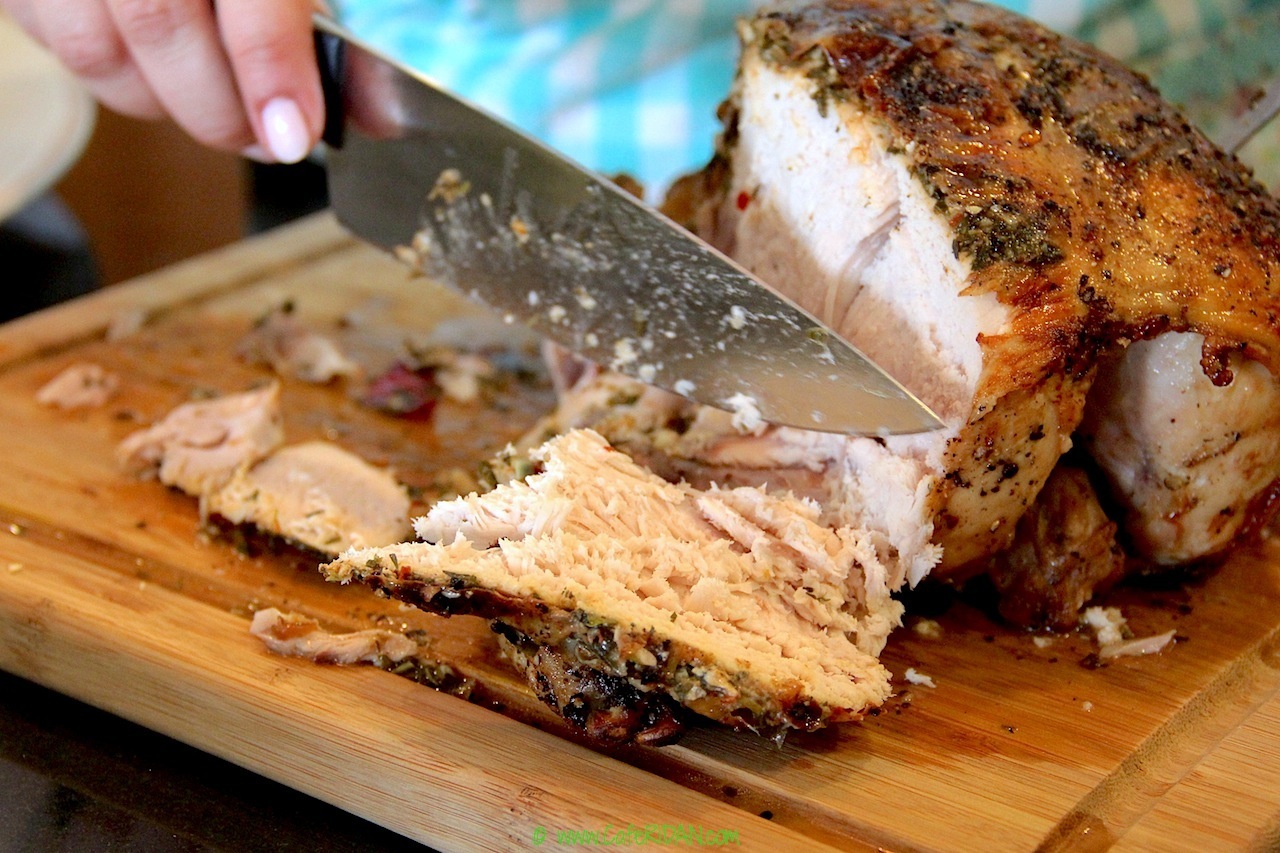 I like to serve my roast chicken with a side of roasted potatoes and boiled peas. It is also great served with roasted brussels sprouts, rice pilaf or a simple green salad. Leftovers can be used for sandwiches, added to a salad or to a pot of steaming hot soup.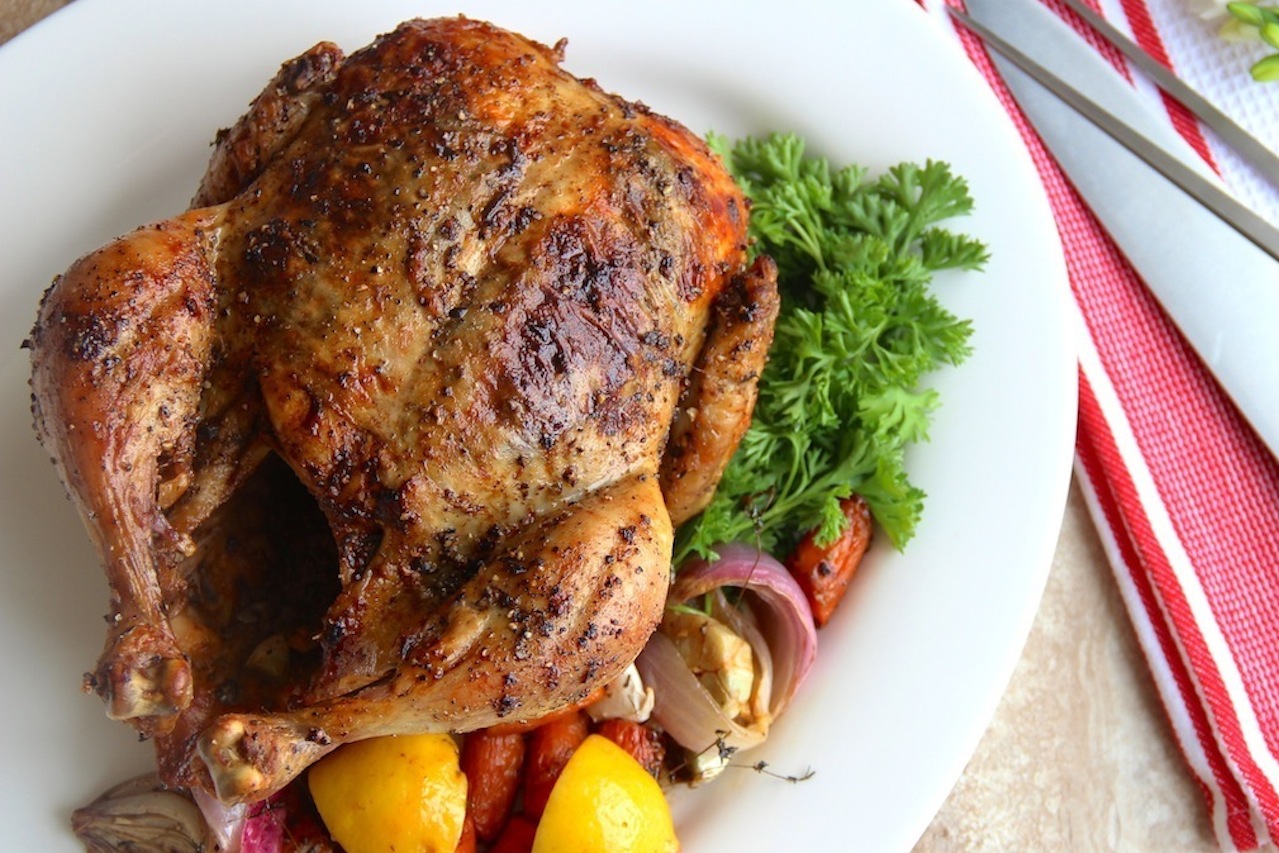 Here is how I make it.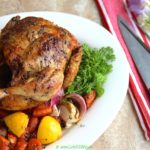 LEMON AND HERB ROAST CHICKEN
2016-05-12 10:27:52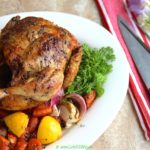 Serves 4
Ingredients
1 roasting chicken (4-5 lb.)
1 red onion, cut in thick wedges
4 carrots, cut in 2-inch chunks
4 celery stalks, cut in 2-inch chunks
1 whole head of garlic, cut in half crosswise
1 tablespoon garlic, finely minced
1 lemon, cut in half
1 lemon, zest and juice
2 tablespoons fresh thyme leaves, finely minced plus 5-6 whole sprigs
1 tablespoon fresh rosemary leaves, finely minced
1 teaspoon paprika
1 tablespoon freshly ground black pepper (add more if you like)
1½-2 tablespoons kosher salt or coarse salt
3 tablespoons unsalted softened butter
4 tablespoons olive oil
Instructions
Preheat oven to 425 degrees F.
Remove the chicken giblets and excess fat. Rinse the chicken inside and outside. Use a paper towel to pat dry.
In a small bowl combine softened butter, minced garlic, lemon juice and zest, minced thyme, rosemary leaves and paprika. Blend well.
Loosen the chicken skin by gently inserting you fingers between the skin and the flesh of the breast. Place all the herb butter under the skin on each side of the breast. Gently press down to evenly distribute the herb butter.
Pour 3 tablespoons of olive oil all over the skin. Season with salt and freshly ground black pepper.
Stuff the chicken cavity with a whole head of garlic and a lemon cut in half.
Tie the legs together with kitchen string and tuck the wing tips under the body of the chicken.
Place the onions, carrots, celery and thyme sprigs tossed in 1 tablespoon olive oil, salt and pepper in the roasting pan.
Place the chicken on top of the vegetables on a wire rack, breast side down. Roast for 45 minutes. Then turn the chicken over, breast side up and roast for another 45 minutes or until juices run clear when you cut between the thigh and leg.
Remove the chicken and vegetables onto a platter or cutting board and cover with aluminum foil for about 15-20 minutes. This will allow the juices to get back into the chicken before you carve it.
Carve and serve on a platter with the vegetables.
Notes
If you have time, marinate the chicken for 5-6 hours or overnight.
Café RiDAN https://www.caferidan.com/