I know I know…my obsession with mango continues. Lassi is a refreshing yogurt based Indian drink, usually had in the hot summer months with breakfast or lunch. Lassi is a blend of yogurt with milk or water. Traditionally, it is served with a dollop of malai or clotted cream on top and it can be made sweet or savory. Mango is my favorite flavor of sweet lassi and has gained popularity worldwide over the years.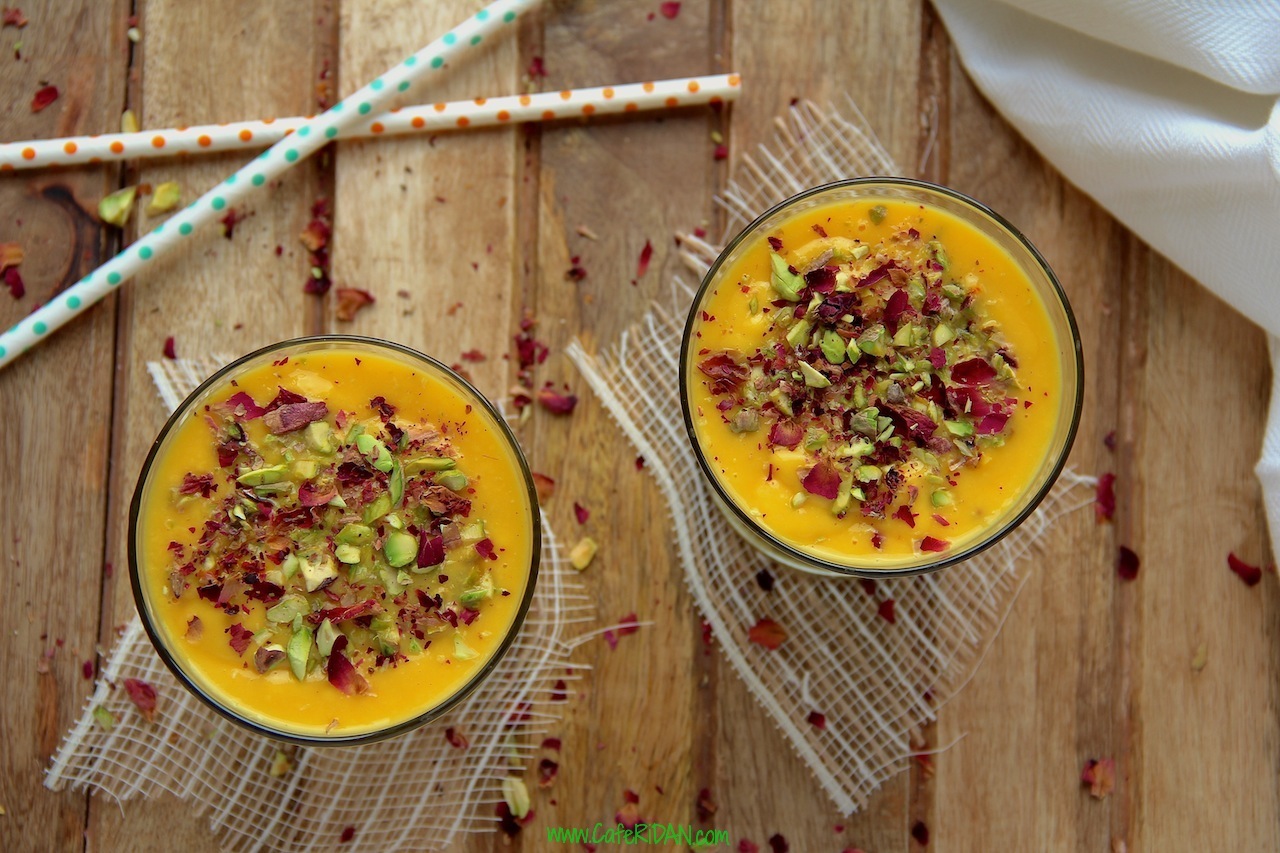 This mango lassi is like drinking a dessert that is really good for you. The blend of fresh mangoes, mango pulp, yogurt and milk makes a delicious, sweet and creamy smoothie. An addition of saffron, rose water and kewra essence give it a distinct Indian flavor. I top my lassi with chopped pistachios that adds a slight crunch and flavor in every sip. Mango lassi tastes best chilled. I like to put my mango lassi in the refrigerator for an hour before I serve it. This also allows the flavors to blend.
One think to keep in mind is to make sure the mangoes that you use are fresh and ripe. You may also need to adjust the quantity of the sugar depending on how sweet the mangoes are. Here is how I make it…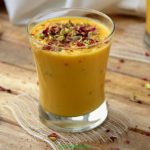 MANGO LASSI (Indian Yogurt and Mango Smoothie)
2016-06-25 13:57:12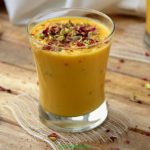 Serves 3
Ingredients
2 mangoes, peeled and diced
¼ cup mango puree
6 teaspoons sugar or to taste
1 cup plain yogurt
½ cup milk
½ cup water
4 teaspoons rose water
2 teaspoon kewra essence (optional)
pinch of saffron, soaked in 1 tablespoon warm water
2 tablespoons chopped pistachio (for garnish)
1 tablespoon dried rose petals (for garnish)
Instructions
Soak a pinch of saffron in a tablespoon of warm water for 2-3 minutes.
Add chopped mangoes, mango puree, sugar, yogurt, milk, water, rose water, kewra essence and soaked saffron with water into the jar of a blender. Blend until it is a thick and smooth puree.
Pour into serving glasses and chill in the refrigerator for about an hour.
Garnish with chopped pistachio and rose petals. Serve chilled.
Café RiDAN https://www.caferidan.com/