I have been making these pancakes since I was around 12 years old. Growing up, my mom made these pancakes for us all the time. Over the years, I have made many different variations and added ingredients to add lots of flavor to these simple, easy to make pancakes.
You can also make these pancakes with whole-wheat flour or substitute half of the all-purpose flour with almond flour just to make them healthier.
I use coconut palm sugar, but you can add regular granulated sugar or agave. Coconut palm sugar is a rich, unrefined brown sugar and it adds a deep caramel flavor to the pancake. Regular milk can also be used in place of the almond milk but I find that almond milk makes the pancakes lighter and also adds an amazing nutty flavor.
The pancake batter can be made ahead of time or the night before. Cover with plastic wrap and store in the fridge. Bring the mixture to room temperature before making the pancakes. If the batter seems too thick, add a couple of tablespoons of almond milk to thin it out.
These pancakes are great with just some warm maple syrup and a dollop of whipped butter, but the blueberry compote complements the citrus in the pancakes and adds an amazing burst of flavor. For the compote, just add the blueberries, maple syrup, orange juice, zest and liquor to a saucepan. Bring to a boil. Cook for 10 minutes and serve. Really, it is that simple!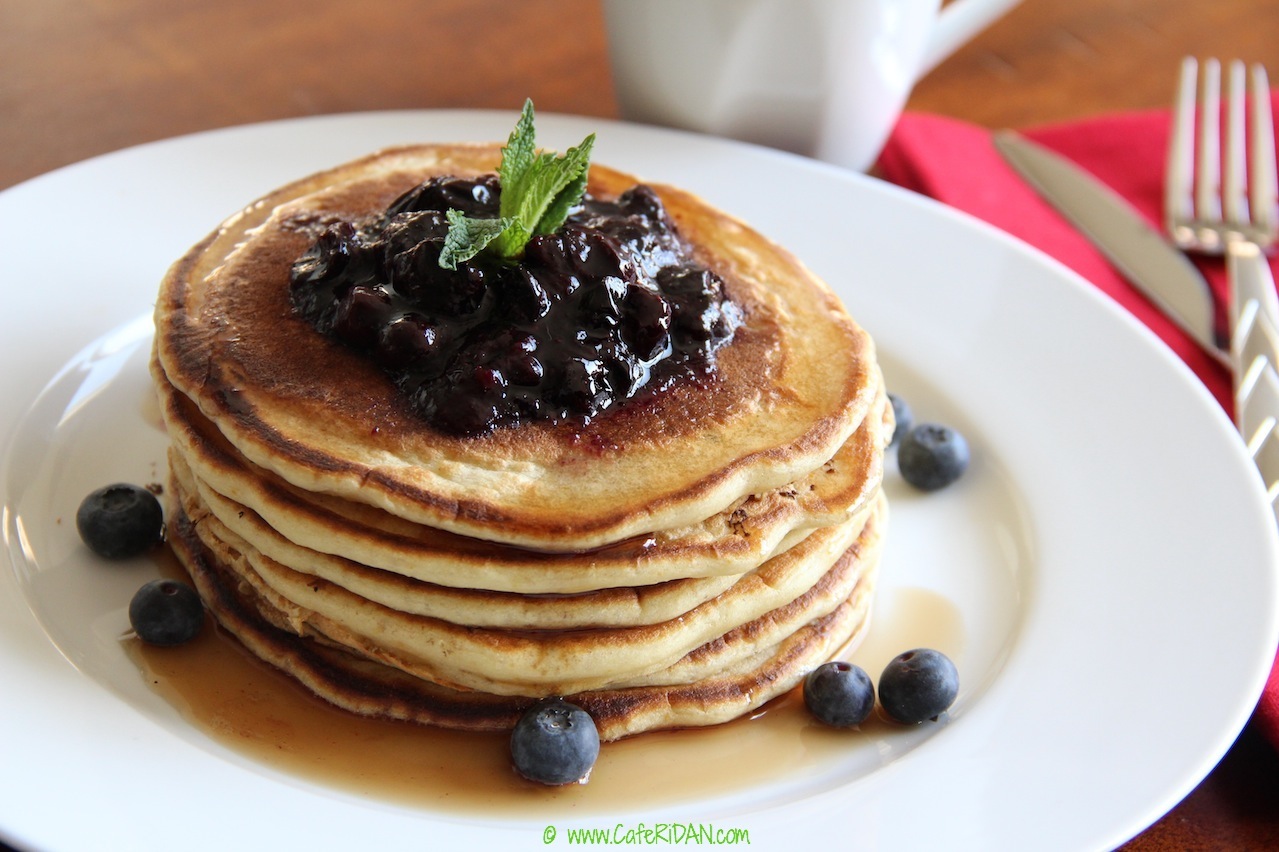 Here's how I make the pancakes…
ORANGE AND ALMOND MILK PANCAKES
2016-02-09 15:22:54
For Pancakes
1 cup all purpose flour
1 tablespoon baking powder
½ teaspoon baking soda
1 tablespoon coconut palm sugar or superfine sugar
¼ teaspoon salt
1 cup almond milk
1 tablespoon melted butter
1 egg, beaten
1½ tablespoons orange zest
For Blueberry Compote
1 ½ cups fresh blueberries (can use frozen also)
½ cup pure maple syrup
Zest of 1 orange
Juice of 1 orange
1 teaspoon orange liquor (optional)
For Pancakes
Mix together flour, baking powder, baking soda, sugar and salt in a bowl.
In another bowl whisk together almond milk, melted butter and an egg.
Add the wet ingredients to the flour mixture and whisk together until smooth.
Add a tablespoon of the orange zest to the batter and mix well.
If you have time, let the batter sit for about 20-30 minutes.
Heat a dry griddle on medium heat – no need to add oil.
Use a ladle or ¼ cup measure to pour the batter into the center of the pan. This will ensure even size pancakes.
Cook for about a minute till bubbles form on the surface of the pancake. Then flip and allow it to cook on the other side for about a minute till both sides are golden brown. (Do not press the pancake down or flip over more than once)
Serve immediately with blueberry compote or warm maple syrup and whipped butter.
For Blueberry Compote
Add blueberry, maple syrup, orange juice, orange zest and liquor to a saucepan and bring to a boil.
Let the sauce boil on medium high heat for about 7-8 minutes.
Then gentle smash most of the blueberries with the back of a wooden spoon.
Cook on medium heat for about 2-3 minutes more.
Transfer to a pitcher and keep warm.
Notes
The compote leftovers can be stored in a jar in the fridge for 3-4 days. Spread over toast or add to your favorite smoothie or yogurt.
The pancakes also stay well in the fridge for up to 2 days. Wrap them in a paper towel and store in an airtight container. To warm, wrap the pancakes in a damp paper towel and microwave for about a minute.
Café RiDAN https://www.caferidan.com/