So…it's Sunday. It's grey. And its freezing outside. It's just one of those mornings when you want to do nothing but snuggle up in bed with a steaming hot cup of coffee. But I am never too lazy to whip up a delicious brunch for my husband and myself.
My Spanish Frittata is the perfect brunch for a lazy Sunday morning like today. The inspiration for this frittata comes from a spanish potato and chorizo omelette I had at a quaint little café in Madrid, Spain. I just had to recreate it when I came home.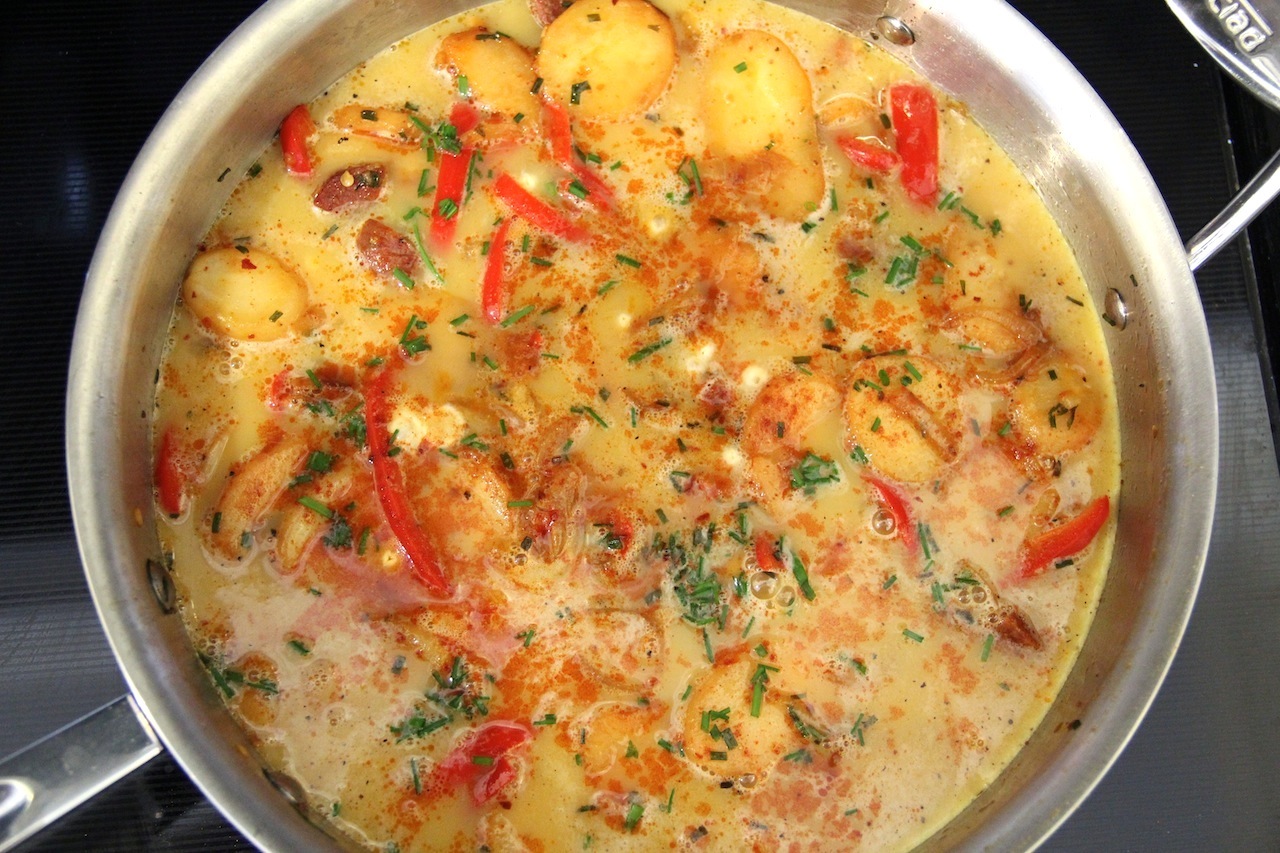 I love that Frittata is a one-pan meal and goes straight from the stove to the oven. It is the best way to use up leftover ingredients in your fridge and freezer. Sauté a bunch of vegetables, meats, cold cuts in an oven proof skillet. Pour over some beaten eggs and milk, top with grated cheese and herbs if you like and bake in a preheated oven till it sets. Really it is that simple!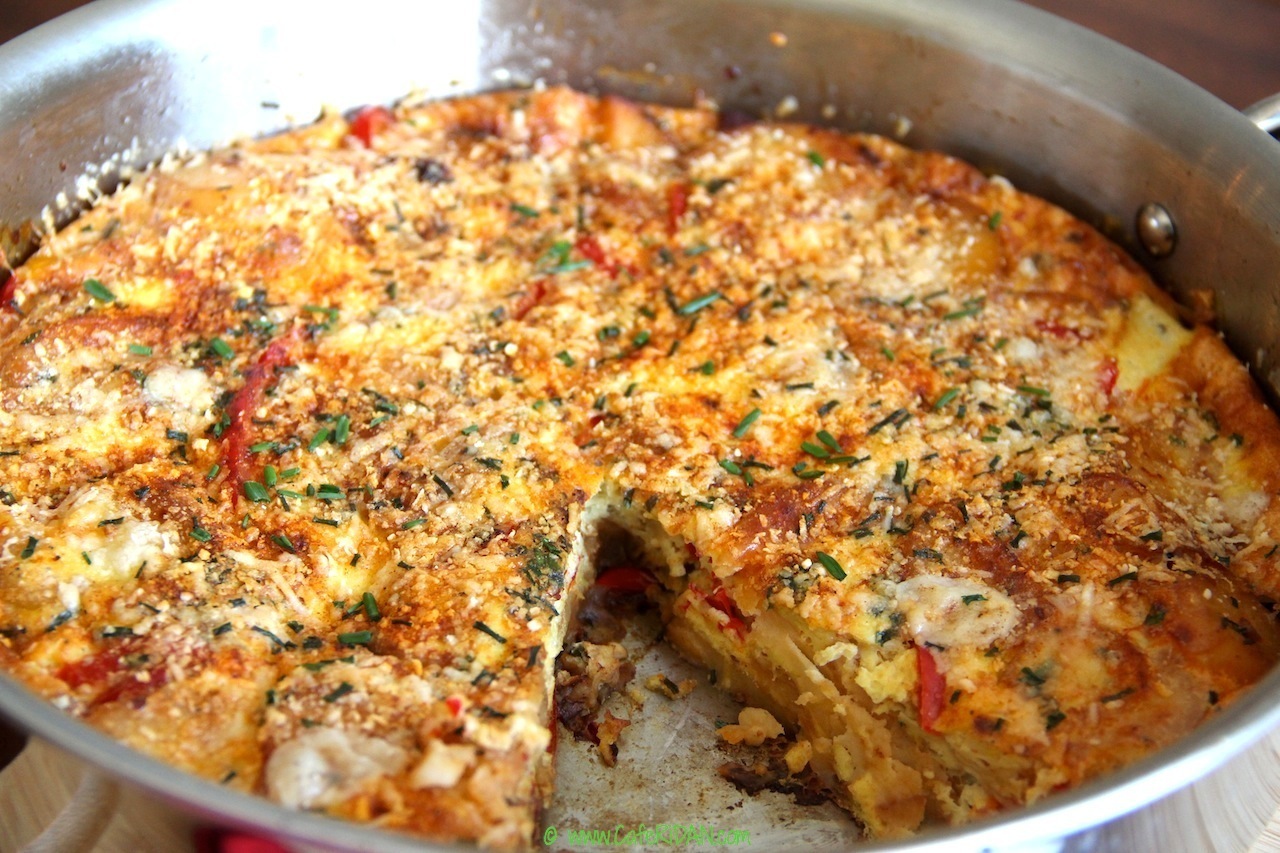 Frittata is great for a breakfast party. If you do not have an oven-proof skillet, transfer the veggies and sausage to a square or rectangular oven-proof dish and cover with the egg mixture. Bake, cut it into squares and serve. Another great way to make it is in a muffin tray and you have little individual frittata muffins. You can also sauté the veggies and sausage before hand and bake it with the eggs just before your guests arrive. Honestly, Frittata is great anytime of the day.
For a really healthy low-calorie Frittata use lots of vegetables, egg whites and fat-free milk and serve it with a side of a fresh green salad.
I make Frittatas with a lot of different combinations, but this Spanish Frittata is my favorite.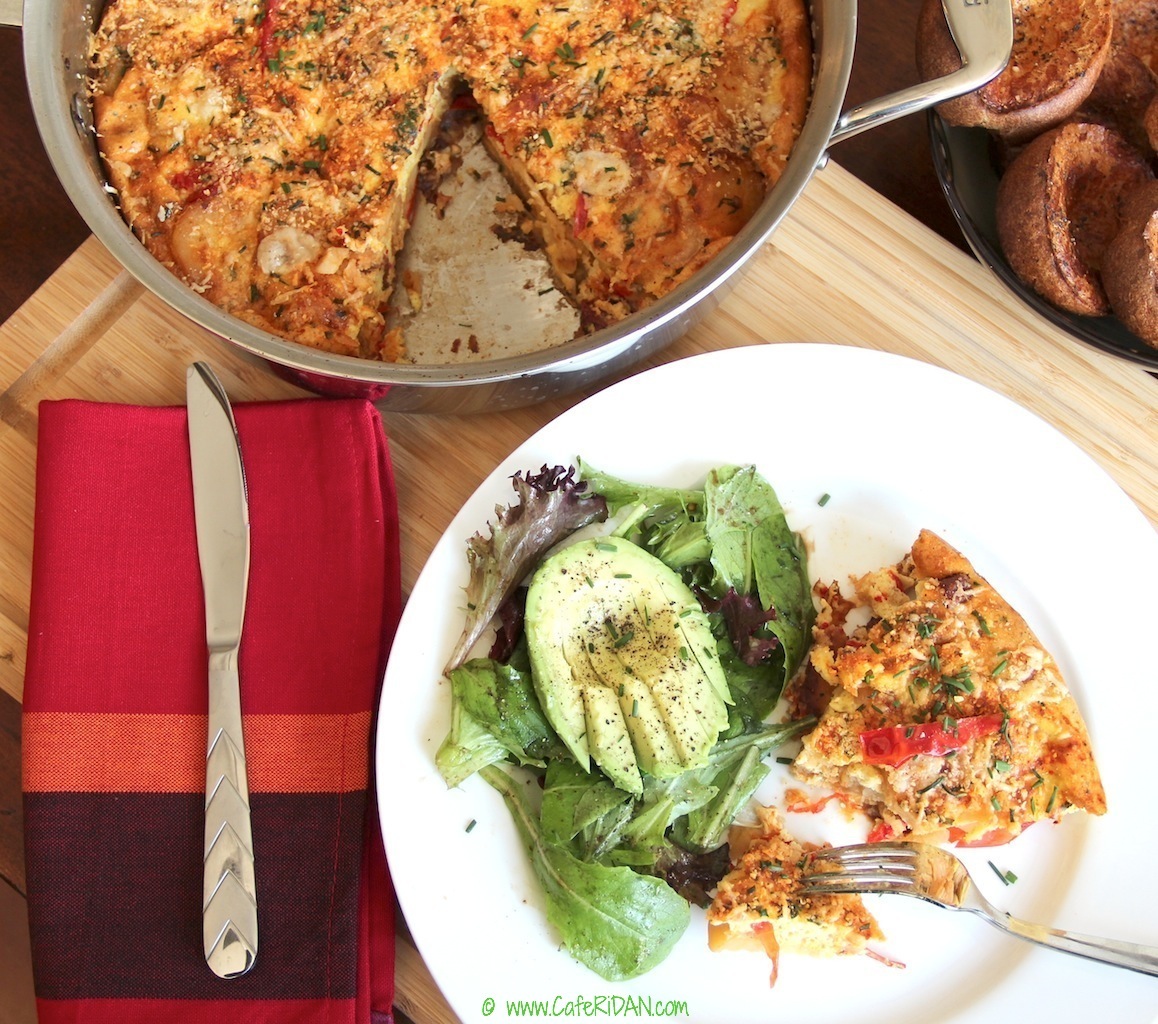 Here's how I make mine.
SPANISH FRITTATA
2016-02-11 22:17:23
Serves 4
Ingredients
1 tablespoon olive oil
10 eggs
½ cup milk
1 ½ teaspoon salt
½ teaspoon pepper
1 pound frozen roasted potatoes
1 cup onion, thinly sliced
1 cut red bell peppers, thinly sliced
1 cup chorizo, cut into bit size pieces
1 teaspoon paprika
½ teaspoon chili flakes
2 tablespoon chives, chopped
¼ cup parmesan cheese, freshly grated
Instructions
Preheat oven to 425*F.
Whisk together eggs, milk,1 teaspoon of salt and pepper in a bowl. Set aside.
Heat an ovenproof skillet with a tablespoon of oil.
Add sliced onions and sauté with a pinch of salt till slightly translucent but not brown.
Add chorizo and cook for 5 minutes or till sausage is cooked through.
Add sliced bell peppers and sauté of 2 minutes.
Add roasted potatoes, only 1 tablespoon chives, ½ teaspoon of paprika and chili flakes.
Pour the egg mixture over the veggies and sausage and cook for 2 mins over medium heat till slightly set.
Transfer the pan to the oven and bake for 20-25 minutes, until puffed and set in the middle.
Sprinkle with parmesan cheese, remaining ½ teaspoon paprika and 1 tablespoon chives. Bake for another 3-5 minutes till the cheese is melted and brown.
Serve hot.
Café RiDAN https://www.caferidan.com/