My Dad's side of the family is from Jammu, a state in northern India where rajma chawal is the ultimate comfort food. This rajma recipe is very special as I learnt how to make it from my dadi, my paternal grandma and it brings back a lot of childhood memories. As children all of us cousins got together at her home for every festival and no occasion was complete without her cooking rajma for us. She never had an exact recipe and just said "add a little bit of this and a little bit of that". I don't think mine will ever taste as good as her's but this recipe comes pretty close.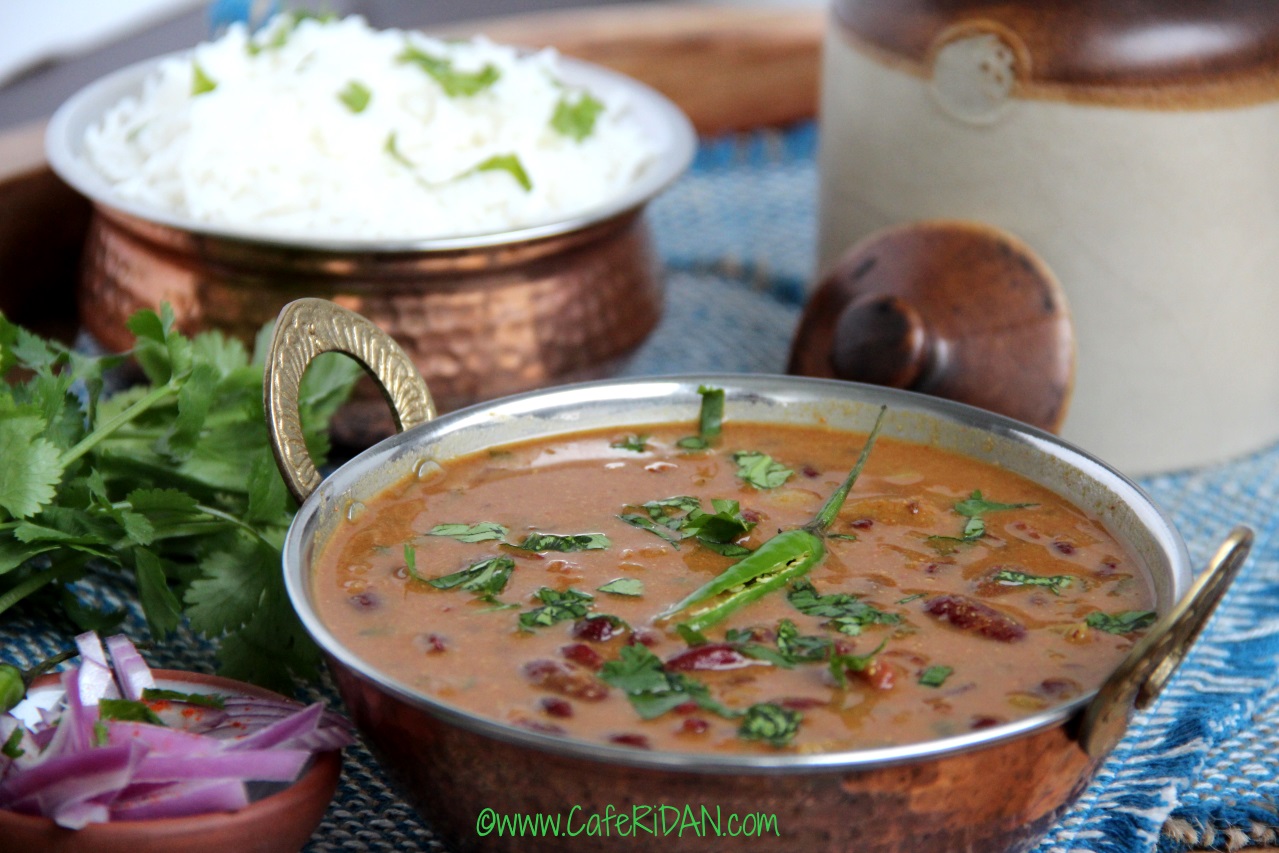 Rajma or red kidney beans as they are known here in the Unites States are soaked overnight and then cooked with onions, ginger, yogurt, tomatoes and spices. The ginger, garam masala and kashmiri chili powder add a warmth to the curry while the yogurt adds creaminess. My grandma always said that rajma is heavy and therefore, asafiteda and ghee are added to help with digestion.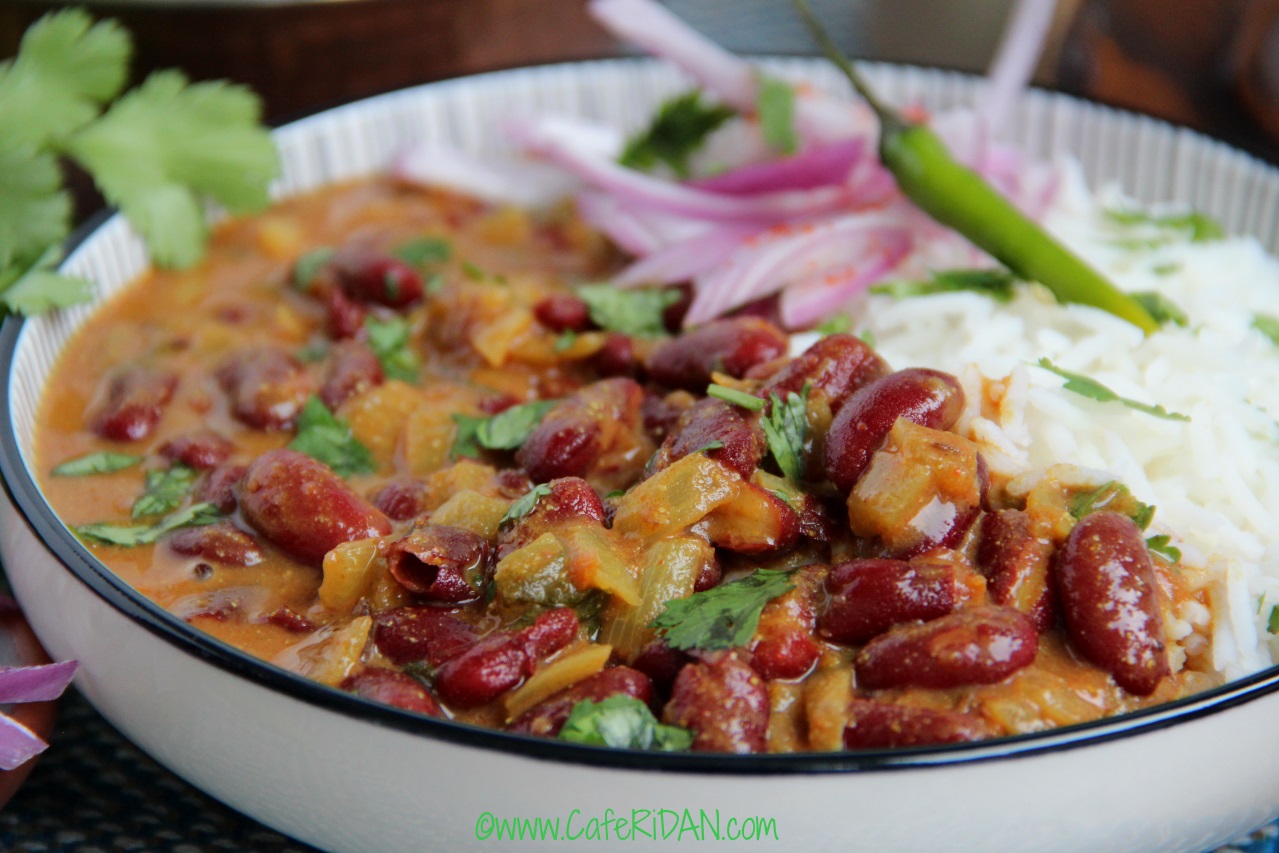 Rajma freezes very well and is a great make ahead dish for a dinner party. This rajma is made the traditional way and takes slightly long to make but trust me when I tell you…it is worth the effort!
Here is how I make it…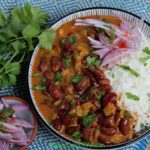 RAJMA (RED KIDNEY BEAN CURRY)
2018-03-23 15:54:41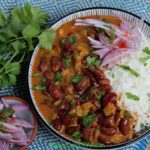 Serves 6
Ingredients
2 cups rajma (red kidney beans)
7 cups water
2 teaspoons turmeric powder (divided)
4 teaspoons salt (divided)
2 teaspoons ginger paste (divided)
1½ tablespoons ghee/clarified butter
1/8 teaspoon asafetida/hing
2 teaspoons cumin seeds
2 cups onions, finely chopped
1 teaspoon kashmiri chili powder/degi mirch
2 teaspoons coriander powder
1½ cups yogurt, whisked so no lumps remain
2 tomatoes, ground into a puree
¼ cup cilantro, chopped
¼ teaspoon garam masala powder
Instructions
Wash and soak rajma in lots of water overnight. After about 8-10 hours the soaked rajma will double in volume. Drain and set aside.
In a pressure cooker add rajma, 7 cups water, 1 teaspoon turmeric powder, 1 teaspoon salt and 1 teaspoon ginger paste. Put the lid on and cook on medium heat for 7 whistles. This should take about 25-30 minutes. After 7 whistles, take if off the heat.
In a medium skillet heat the ghee. Add cumin seeds and asafetida. Wait about 30 seconds and then add the onions. Sauté for about 7-8 minutes until the onion are brown.
Add 1 teaspoon ginger paste, 1 teaspoon turmeric powder, Kashmiri chili powder and coriander powder. Sauté for another minute.
Add the whisked yogurt and stir continuously for about 5-7 minutes until the yogurt comes to a boil and is cooked completely. If you do not stir continuously the yogurt will curdle.
Then add the pureed tomatoes and cilantro. Cook for another 10 minutes until the tomatoes are cooked and oil floats to the top.
Now add the mixture to the cooked rajma. With the back of a wooden spoon smash a few of the kidney beans. This makes the curry creamier. Add garam masala and cook on low medium heat for another 30 minutes stirring occasionally.
Serve hot with rice.
Notes
Add a teaspoon of hot ghee to the rajma before eating.
Café RiDAN https://www.caferidan.com/