Aloo Poha is a traditional Indian breakfast dish made with Aloo (Potatoes) and Poha (flattened Rice). It is great as a light snack too. Poha is made differently in different parts of the country and is very popular in the states Gujarat and Maharashtra. It is flattened rice cooked with mustard seeds, curry leaves, potatoes, onions and peas. Some people also like to add roasted peanuts and grated coconut.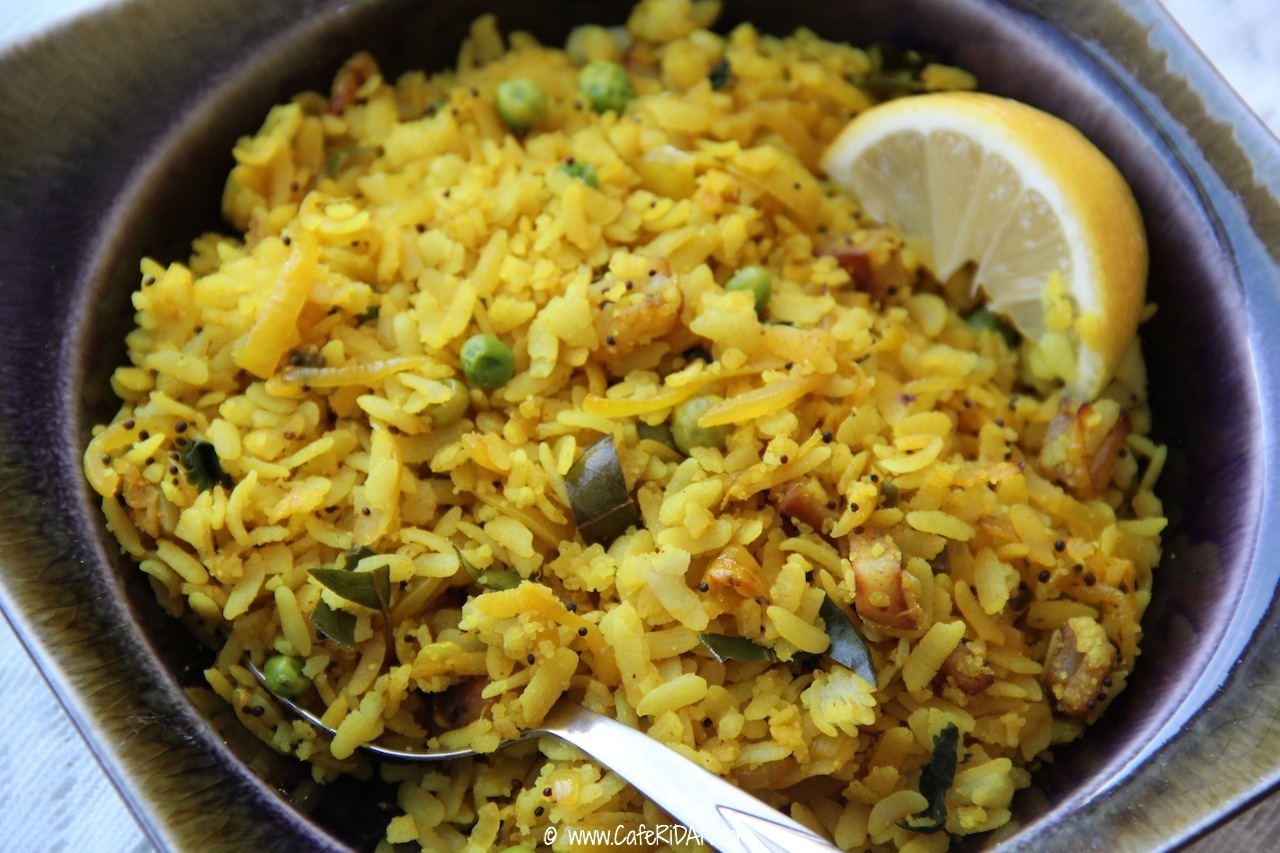 This recipe comes from my Mom-in-law. My husband absolutely loves Aloo Poha. For our first early morning breakfast date after we got married, he took me to his favorite street vendor. We ate aloo poha and Masala Tea sitting in the car at 7am :). I really didn't have an option. Just had to learn how to make Aloo Poha the way he liked it.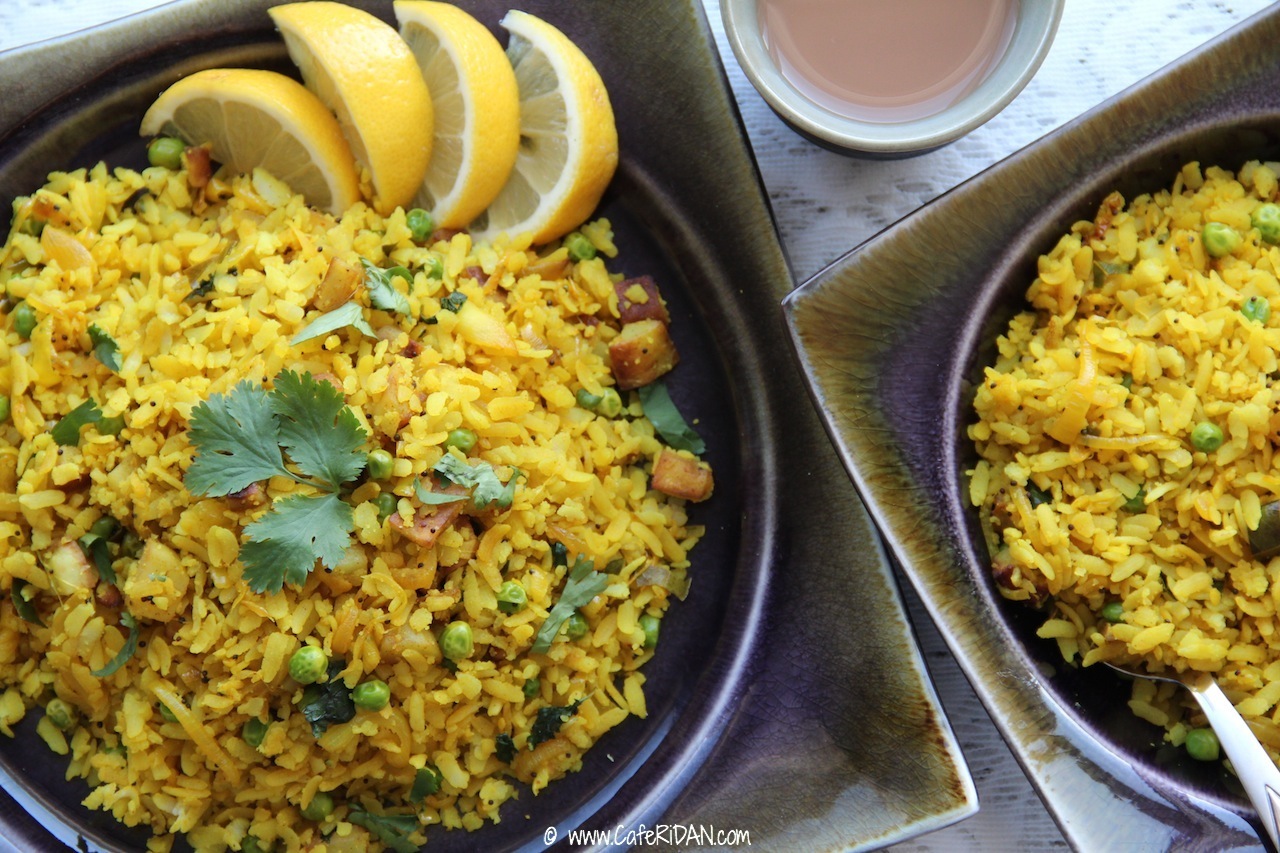 So as per Ma-in-law the key to making good Poha is a generous amount of oil and lots and lots of thinly sliced onions. Also remember to use the thicker Poha, as it prevents the dish from getting mushy. I also wash the Poha in a fine mesh strainer under running water for only a few seconds. This allows the Poha to get just enough moisture and not get too wet.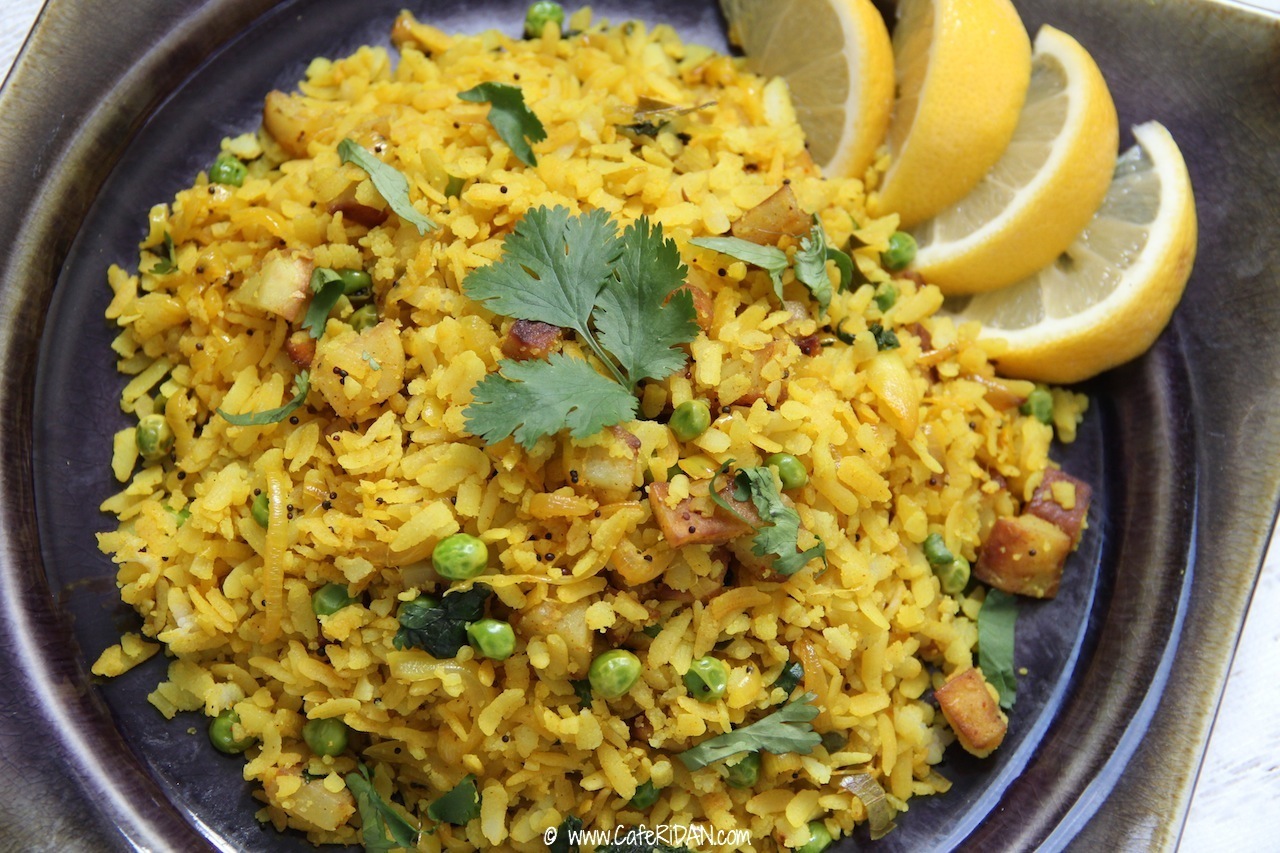 Here is how I make it.
ALOO POHA
2016-04-19 20:40:29
Serves 4
Ingredients
4 cups Medium or Thick Poha (flattened rice)
2 cups thinly sliced onions
1 cup small diced potatoes (I prefer Yukon gold potatoes)
½ cup peas (optional)
½ cup cilantro chopped
10 curry leaves
¾ tablespoon chopped jalapeno or green chili
2 tablespoons lemon juice
1 tsp small mustard seeds
1 teaspoon turmeric powder
½ teaspoon red chili powder
3 ½ teaspoons salt
4 tablespoons oil
¼ cup water
Instructions
Wash Poha in a strainer and set aside.
Heat a pan with a tablespoon of oil. Add diced potatoes and cook on medium heat until tender and brown and set aside. This should take about 10-12 minutes.
In the same pan, heat up the remaining oil. Add mustard seeds. Once the seeds start to splutter, add turmeric and stir for a few seconds.
Add onions along with half a teaspoon of salt and green chili. Let the onions sweat until they are tender for about 5-7minutes, stirring often. Do not let the onions brown.
Add curry leaves, red chili powder and mix well.
Add potatoes, peas, cilantro and mix.
Add poha, lemon juice and salt. Mix well but be gentle so you don't break the poha.
Sprinkle with water and cook covered for 5 minutes.
Serve warm.
Notes
Use medium or thick poha.
To save on time you can also use a boiled potato.
Café RiDAN https://www.caferidan.com/