What is the best way to tell a friend you care? Cook them a delicious dinner after they have had a long exhausting day at work. Last night I made Spinach and Basil Pesto Pasta and took it over to a friend's house. A delicious meal, couple glasses of wine and great company…I say it's the perfect way to relax after a long day at work!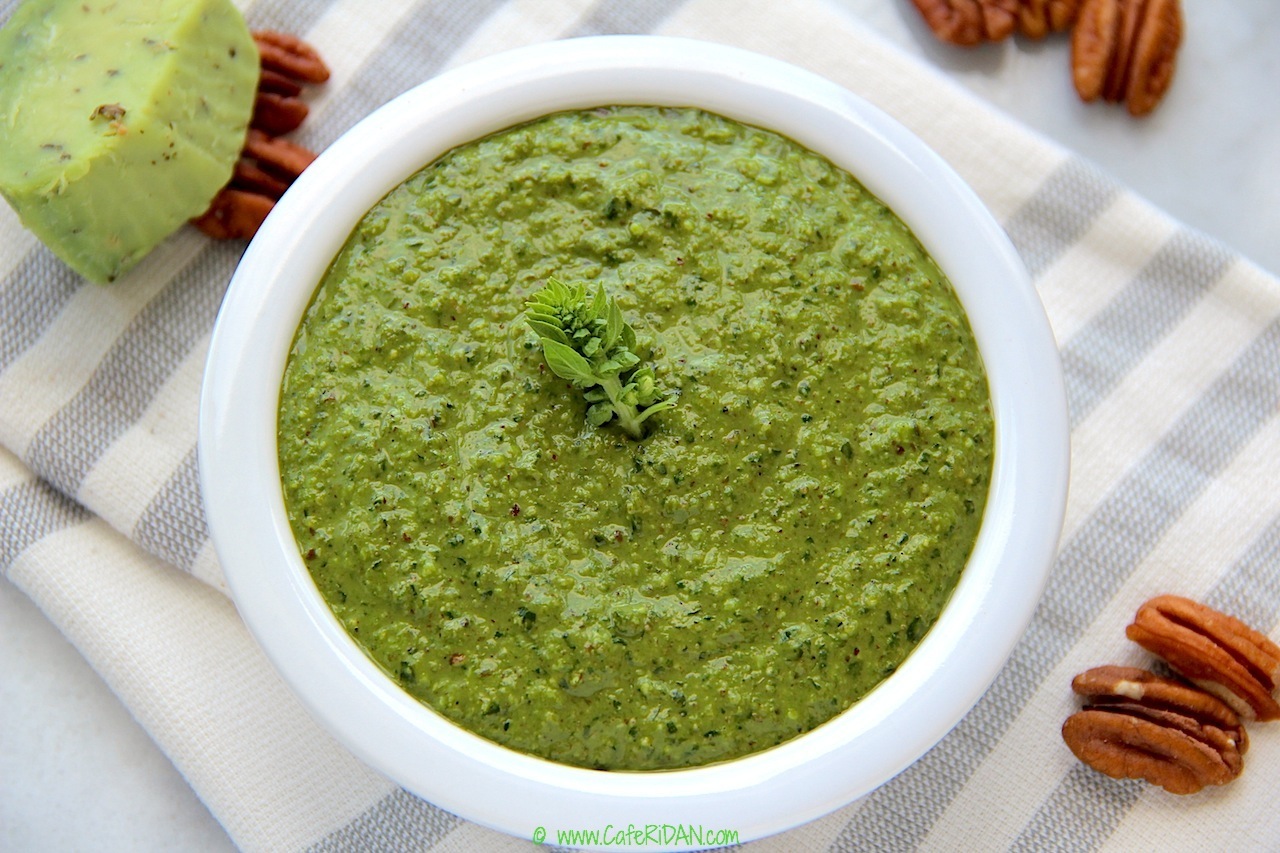 The Spinach and Basil Pesto Pasta can be whipped together in no time. The fresh flavors of the Spinach and Basil come together very well. I also use pesto gouda cheese instead of parmesan. I find the gouda cheese adds an amazing creaminess and flavor to the pesto unlike the parmesan cheese that adds more of a salty bite. But if you cannot find pesto gouda cheese you can use parmesan instead. Karan likes his pesto pasta with some grilled shrimp. For a vegetarian version, I add fresh baby spinach leaves or some ripe cherry tomatoes to it. Personally I like it as is.
I use fusilli or bow tie pasta because it is easy to handle and more importantly the crevices in the curly pasta allow more of the sauce for every mouthful. But you can use any kind of pasta you like. For a gluten-free version, use brown rice pasta.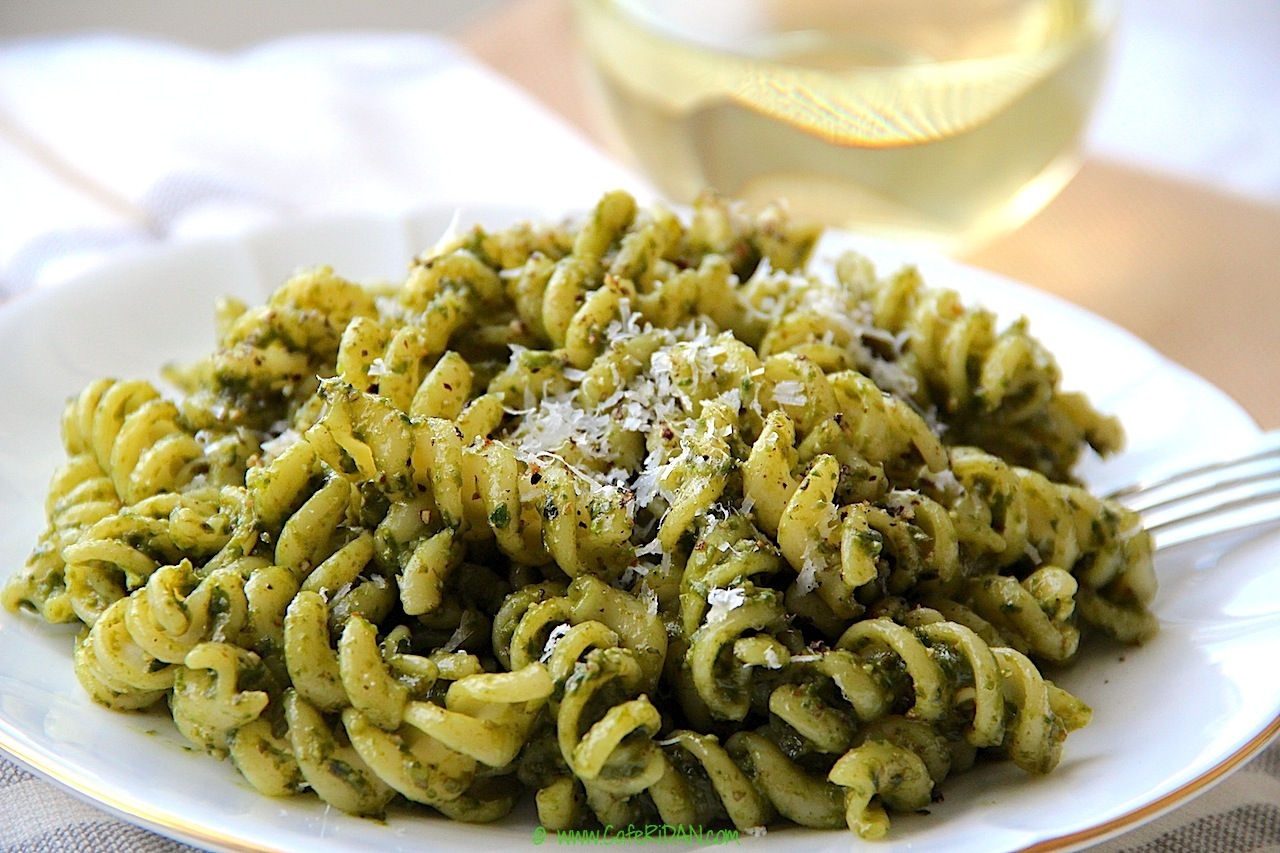 One thing you want to keep in mind while making the pesto sauce is to make sure you keep it a bit chunky while blending. Over-blending will leave you with a complete paste. I have made this mistake a couple of times, especially while using a new blender. The consistency of the sauce makes a huge difference to the taste. If you make the pesto ahead of time be sure to drizzle the top with a layer of olive oil. This keeps it from turning black. The pesto also freezes very well.
Here's how I make it.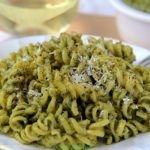 SPINACH AND BASIL PESTO PASTA
2016-05-18 17:31:45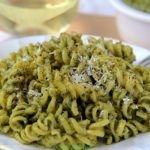 Serves 4
For Pesto
¾ cup extra virgin olive oil
1 garlic cloves, peeled
1 cup pesto gouda or parmesan cheese
2 cups fresh basil leaves, packed
2 cups fresh baby spinach leaves, packed
¾ cup pecans
1 teaspoon freshly ground black pepper
1 teaspoon salt (or to taste)
For Pesto Pasta
1 teaspoon olive oil
1 garlic clove, finely minced
¼ teaspoon chili flakes (optional)
¼ cup parmesan cheese, grated for garnish
Freshly ground black pepper
1 pound fusilli pasta
Instructions
Add all the pesto ingredients to the blender in the order that they are listed. Pulse a few times and then blend until the pesto comes together as a slightly chunky puree. Do not over blend.
Bring 4 quarts of water to a rolling boil in a large pot. Add 2 heaping tablespoons of salt, stir and then add the pasta.
Cook (as per package instructions) until an dante – pasta is cooked, but not completely. If the package says cook for 12 minutes, cook it for 10 minutes. Pasta will cook completely in the sauce. This will prevent the pasta from getting mushy.
Drain pasta. Reserve a cup of the pasta water to thin the sauce later, if needed. Never rinse the pasta after its drained. The pasta will become cold and the starch that helps to thicken the sauce will get washed away.
Heat a teaspoon of olive oil in a skillet on medium heat. Add the finely chopped garlic. Once the garlic starts to brown, add chili flakes and sauté for a few seconds till it browns slightly but do not let it burn.
Add pesto and stir around for a minute.
Add the drained pasta and stir till it is completely coated with the pesto. If it is too dry add a little bit of the reserved pasta water to thin out the sauce.
Serve hot topped with some freshly ground black pepper and grated Parmesan cheese.
Notes
Adding salt to the pasta water allows it to flavor the pasta as it cooks. If you add salt after the pasta is cooked it just stays on the surface and tastes salty.
To reheat leftovers, add a couple tablespoons of hot water to the pasta, cover and warm on low heat.
Café RiDAN https://www.caferidan.com/